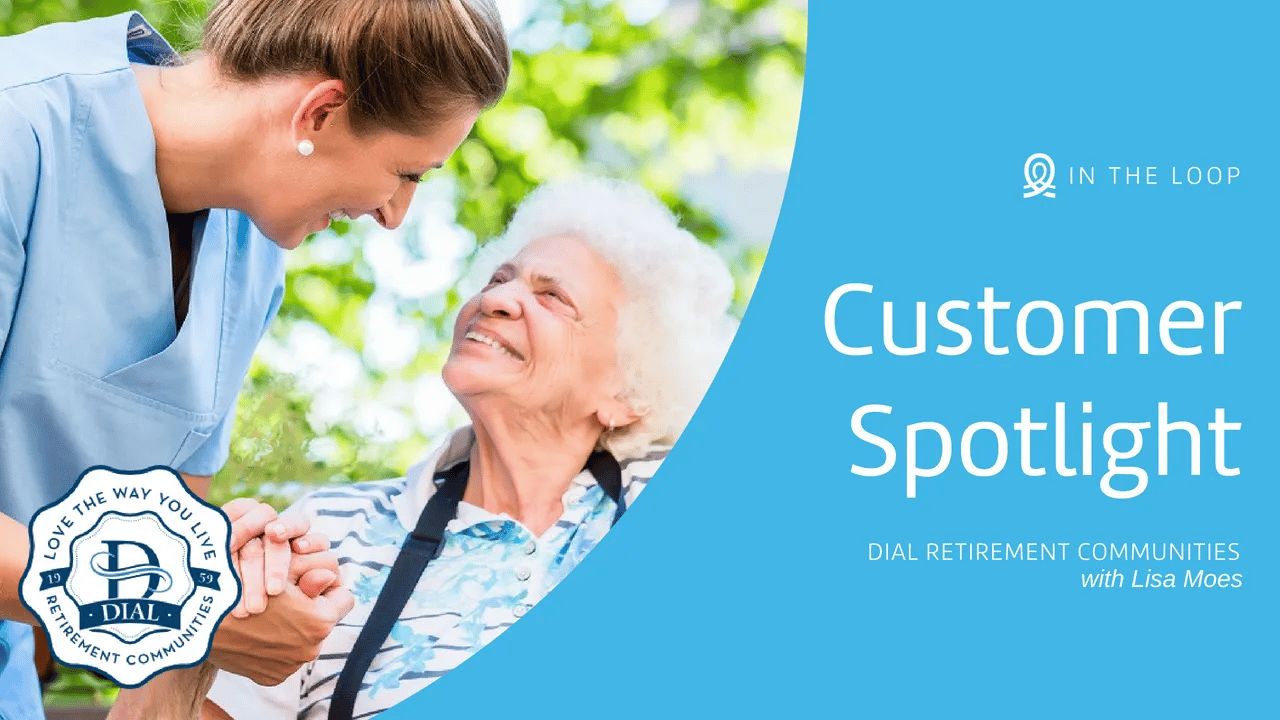 The LifeLoop team works hard to deliver a great product. But, it's our customers that truly realize the platform's potential.
Their ingenuity and dedication make LifeLoop a transformative force in their organizations. That's especially the case for Dial Retirement Communities, a senior-living system in the Midwest. With 14 communities in the organization, a system-wide deployment is no small feat.
Lisa Moes, Project Coordinator with Dial, spearheaded the initiative. Since she started with Dial 18 months ago, she's focused on implementation, adoption and utilization of LifeLoop in 12 of Dial's communities, with two more to come this summer.
Lisa wanted to give other senior living organizations a sense of what to expect. She spoke with us to walk us through her experience.
Here's what she has to say about LifeLoop's implementation, its benefits, and its promise.
Ease-of-use.
Lisa was candid about the challenges of bringing LifeLoop to a new community.
"Senior living is not typically known for being super tech-forward," she said, "and people in the industry can be a little hesitant of new ways of doing things. They don't want to change the processes they have."
That hesitation is understandable. Big changes always come with growing pains. In a setting where resident care is priority, those pains can be a challenge to balance.
However, Lisa was happy to report that LifeLoop's design – and their customer service team – made on-boarding easy.
"It's just so simple," she said. "The interface is very intuitive, and easy for staff to work with, even if they don't have too much experience with high-end technology."
She also made a point of commending LifeLoop's training and implementation process. First, the LifeLoop team provides initial training. To help the new habits stick, the platform also has video and tutorial modules that automate the process of teaching staff to work with the software. That was a huge advantage for Lisa, who was responsible for consistency in bringing 12 different facilities up to speed. She couldn't very well be in 12 places at once!
Lisa underscored how important this level of simplicity and automation is for the senior living industry, in particular. "It's a field with a lot of churn," she said. "In this industry, employee turnover is common, unfortunately, and it can be very difficult to bring new staff up to speed. An easy system like this really helps. And it can even help build a consistent company culture, even as staff rotates."
Not just 'residents.' People.
Asked to summarize LifeLoop in a nutshell, Lisa called it a "Voice of the Resident."
LifeLoop's resident profiles put a human touch to otherwise-impersonal documentation. The software accepts all kinds of biographical details — including pictures, tastes, preferences, and likes — for each resident. This gives staff a variety of ways to peer into their lives.
"Sometimes in the course of a busy day, it's easy to see our residents as just a collection of tasks to be done," Lisa said, "but if you know that a resident loves pot-roast and knitting, and you've seen their high school photos, it allows the staff more opportunities to connect with the residents on a personal level. By understanding our resident's history, this allows staff to bring forth memories and share in these life engagements with each resident."
Resident family-members can also stay up to date with these profiles – and they can contribute changes themselves. From their devices at home, they can post new pictures onto the platform, or share important memories with their loved ones and the staff members that care for them. Staff can use this updated information to engage in more meaningful conversation with their residents.
"That's a really big deal in memory care," Lisa observes.
More efficient maintenance.
As an enterprise Project Coordinator, Lisa's always thinking about business efficiencies. She had a lot to say about how LifeLoop streamlined maintenance at Dial communities.
"Dial facilities tend to be pretty large, both in terms of population and in footprint," Lisa said. "That means maintenance crews have a lot of things to do, and a lot of ground to cover."
Before Lisa started with Dial, maintenance workers had to do a lot of walking just to learn what jobs needed doing. There was a paper log of maintenance requests that workers had to check pretty often.
"It took so much time out of their days!" Lisa reported.
But LifeLoop connected directly to maintenance staff's smartphones. They got pinged as new needs arose. This not only spared them from long schleps across communities, but also helped them prioritize.
Even better, LifeLoop tracked and catalogued each of these maintenance tasks.
"That gave us a way to see any recurring problems and also gave us an idea of our staff's performance," Lisa said. "We could see exactly how long it takes to respond to each maintenance request. That lets us know how we're doing, and paves the way toward getting better."
Resident lives enriched.
That points to what Lisa sees as LifeLoop's most important benefit: understanding where and how staff are spending their time.
In life-enrichment offices, that matters. No life-enrichment director would say they have a lot of free time — it's crucial that they use their limited hours (or minutes!) effectively.
"The ability to track resident participation in activities taught us so much," Lisa said. "It helped us become much more efficient planners. Like, if our life-enrichment teams invest a ton of time planning an activity, and hardly any residents attend — we know not to do that type of activity anymore! In many cases we utilize the interests of our residents to help define quality activities; we really want them to love the way they live. "
Participation records are archived and searchable, too. Given enough time, LifeLoop becomes a database of what works in a given community, and what doesn't. The end result — smarter, more refined activity planning.
Taken in detail, LifeLoop's records can even show some clinical benefit as well.
"At an individual resident level, we gained insight to some important information out of tracking," Lisa explained. "Let's say you spot a sudden decline in a certain resident's participation rates. Or LifeLoop's telling you that they're suddenly missing out on meals. Those are signs of a potential serious issue. LifeLoop can help us notice these things earlier, so we can be proactive with our interventions."
Quality of LifeLoop
Accustomed to making her case with hard numbers, Lisa surprised herself with her testimony for LifeLoop. But ultimately, Lisa says, these subtle, more qualitative benefits are the best part of LifeLoop's deployment in the Dial system.
"LifeLoop enhances our working efficiency in key areas, it augments what we already do. And it does that really well!"