We know It's Never 2 Late (iN2L) is improving the quality of life of senior care residents every day. But there's nothing more rewarding than hearing directly from organizations that are seeing the positive effects of our technology firsthand.
Presbyterian SeniorCare Network is one of them. The organization provides senior living and senior care services throughout Pennsylvania, including long-term care, skilled nursing, and post-acute rehabilitation facilities.
Presbyterian recently rolled out iN2L to its therapy teams, and the results, which include increased patient engagement and more positive responses to therapy, are inspiring.
Here's more on how Presbyterian implemented our system, and the positive effects: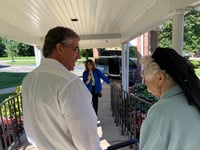 Presbyterian's Successful Approach
The iN2L system incorporates more than 3,000 applications and content items that create meaningful, stimulating, and engaging programs for senior residents based on their needs and personal preferences. The technology includes brain teasers, travel simulations, yoga, and even karaoke.
Presbyterian, which had already been using iN2L in certain memory care neighborhoods, hoped that deploying our system to nearly all of its therapy teams would help refine and enhance treatment approaches, particularly for senior residents living with dementia.
In fact, Presbyterian had recently conducted a poll of its clinicians which found that almost half of them felt the primary barrier to effective treatment in individuals living with dementia was limited engagement and communication during treatment sessions.
As part of Presbyterian's full-scale deployment of iN2L, it added our Mobile FLEX units to its facilities. The units are computers with touch-screen capability that can be adjusted to different angles and heights depending on a resident's needs. The units include high-fidelity speakers and a web cam, music maker, adaptive stylus, joystick, phone handset, wireless keyboard, and wireless mouse. They can also be connected to large screen TVs for group engagement activities.
All of Presbyterian's clinical team members received training on the iN2L system, and certain staff members were designated as user "champions." These individuals provided additional training to team members when necessary. Clinical teams also met frequently to share tips and resolve challenges, and communicated with the iN2L rehab team when they had questions or concerns about using the technology.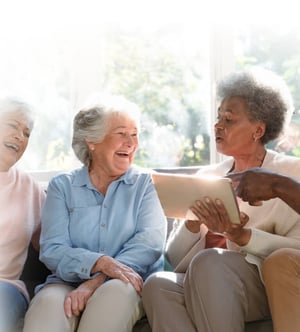 Impact and Results
Higher engagement and care satisfaction among residents.
Therapists used the tool to create experiences that were meaningful and personalized to residents, and therefore, residents were more engaged in the therapeutic activities they participated in while using the tool, according to Presbyterian. For example, therapists could use Google Earth to virtually "visit" a resident's childhood vacation spot, which could help start a conversation between the therapist and resident. Or, therapists could pull up a calming environment on the iN2L screen (such as a snowy day in the country) if a resident was agitated or upset. This could help calm the resident, and help serve as a bridge to engagement in other activities. For many residents, the tool turned therapy into something they looked forward to and enjoyed, according to Presbyterian. And in fact, therapists found that although the primary goal was to use iN2L for individuals living with dementia, the technology benefited all residents, even those without cognitive impairment.
Improved physical and functional capacity among residents.
iN2L helped make the physical aspect of therapy more enjoyable for residents, according to Presbyterian. For example, therapists used games within the system to distract residents while they were completing therapeutic tasks. Therapists observed more capacity among senior residents when performing challenging activities with the system, even among residents who previously self-limited their therapeutic activities. Therapists also used iN2L's rehab module programming to address impairments in physical and functional performance among residents. For example, the video camera built into the system provided biofeedback on postural alignment.

Facility-Wide Benefits
The results of iN2L use by Presbyterian and other facilities across the country make it clear that our technology can play a significant, positive role in senior care and memory care. But it's also important to note that iN2L brings positive benefits to entire senior living facilities, not just individual residents.
Much of that system-wide benefit stems from improved satisfaction among clinical staff who are using iN2L. Our technology is fun for senior residents and therapists, and it increases staff satisfaction and retention, according to facilities who have implemented it. Most importantly, that leads to higher quality care throughout the entire facility.