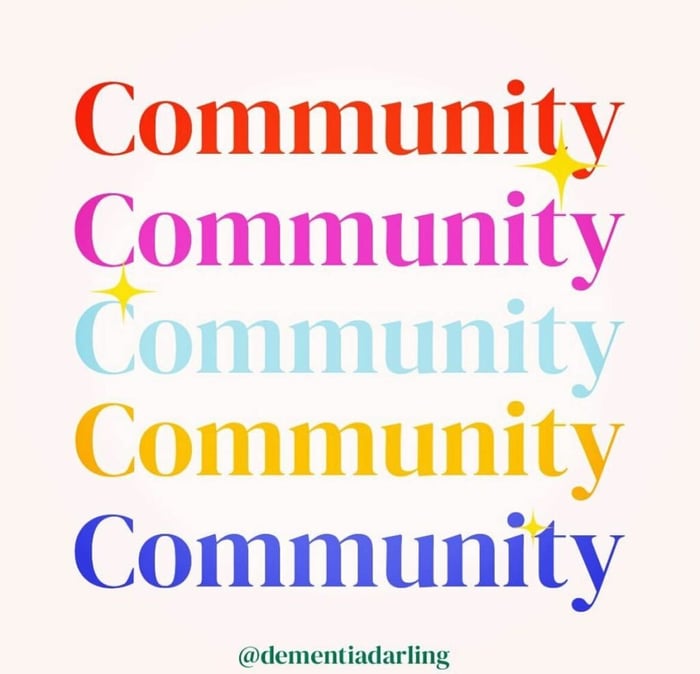 Community Within the Caregiver's Journey
Hey, caregiver! In this blog, we are talking about everything COMMUNITY! Usually, the topic of community is the first thing I stress when I meet with caregivers for the first time. Community comes in a lot of different forms throughout the caregiving journey, and we are going to cover all of 'em! First, I'll break down the specific types of care communities. Second, I'll touch on the importance of feeling like you're a part of a community as a resident and caregiver. Lastly, we'll explore how to build community in your own life at work. Before we dive in, I want you to think about the type of senior living community you work in and how you can facilitate community for your coworkers, residents, and families.
Types of Senior Living Communities
There are several types of senior living communities available. The main factor to consider when looking into a senior living community is how much care/assistance the resident may need. I am going to touch on the main types that we see.
Independent Living: Independent living communities are for older adults who do not need assistance but would like to be around their peers. Independent living can also be referred to as retirement communities, senior housing, or active adult communities.
Continuing Care Retirement Community, or CCRC: These are communities that provide tiered levels of care, usually divided into three areas: independent living, assisted living, and skilled nursing and memory care.
Assisted Living: Assisted living communities are for seniors who require some assistance with their daily tasks. Seniors in assisted living have more privacy and autonomy compared with those living in skilled nursing communities.
Skilled Nursing or Nursing Homes: These communities are for seniors who require 24/7 supervision and care.
Memory Care: Memory care communities are similar to skilled nursing communities except they specialize in caring for those living with memory loss. With the high level of attention needed to care for our seniors living with dementia, coupled with the impending influx of baby boomers, we will see the number of memory care communities rise. Memory care requires specific education and training as many of these residents live with progressive diseases such as Alzheimer's disease. Caring for someone with a progressive disease calls for increased levels of care and assistance as the disease progresses.
Caregiving in any type of senior living community is an extremely difficult job. Caring for others is a multi-faceted job that requires a lot of people to support our seniors emotionally, mentally, and physically. I want to take this moment to thank all the caregivers who are out in the field working hard, learning, and honing their skills every single day every day. It is this dedication and passion that provides our seniors with the care they deserve.
Building Lines of Trust
The more lines of communication and trust, the better off everyone is, especially your team and residents. Open lines of communication encourage team members to ask for help when they need it. This in turn decreases burnout. When staff members feel they can lean on each other in both times of fun and stress, it creates a productive growth environment which can lead to less burnout (in next month's blog we will discuss caregiver burnout). The more communication within your team, the more supported residents will be. The key to happy residents is interacting with a staff that they feel sees them, knows them, and understands them. The key to creating a staff that supports residents? Trust, support, and of course, community!
Creating Community at Work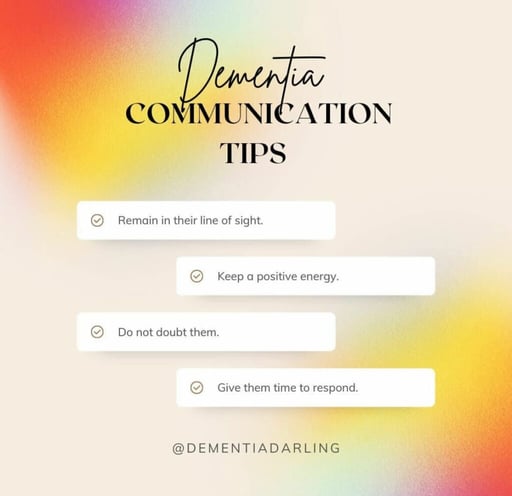 Ok, I am sure by now you are wondering, "…but HOW do I create community?" Let me offer you some suggestions. Before I dive in, I want you to start thinking about how YOU can proactively and creatively build connections and community within your workplace. The first thing I encourage is communication. It is beneficial to us all when we speak up. No one can read minds, and this trend of miscommunication often leads to resentment and stress. While communicating efficiently about work is important, remember that you can also communicate with your team about life, family, and the fun you have outside of work. Sharing stories and taking time to connect during work hours helps build trust and bonds. I know it seems impossible most days to be available for this type of fun, but when you can start enjoyable discussions during times of care with your coworkers and clients, you can begin to create moments that promote authentic connections. This advice is also applicable to your relationships with resident families and loved ones as well!
My last tip for creating community at work is by integrating the iN2L + LifeLoop system into not only resident fun but staff fun as well! I've had lots of fun at jobs connecting with the community team using the iN2L + LifeLoop engagement system by tapping into the jokes or starting a friendly competitive round of trivia (both found under the PLAY button). Using the system for impromptu game competitions (Bubble Pop tournament anyone?), a staff karaoke session, or a staff meeting can help with breaking the ice and building bonds among coworkers. Lean on the iN2L + LifeLoop system when building community with staff, residents, and families. There is something fun for everyone, regardless of cognitive and physical abilities!
Another key to building connections through communications is celebrating! Celebrate the accomplishments and milestones of those around you, no matter how big or small! Acknowledging and celebrating life events with coworkers and residents and their loved ones will strengthen the bonds of your community. Your role should be to cheer your community on along their journey, because their journey is your journey.
Dear Dementia Darling
Do you have any questions for me? I want to invite you to reach out to me here with any questions you have about caregiving, iN2L + LifeLoop, dementia, and more! I will answer them through videos that you can access through our systems and on social media (@dementiadarling). Your questions can help other caregivers on their caregiving journey. Let's support each other. I look forward to answering your questions! 😊