Caregiver Goals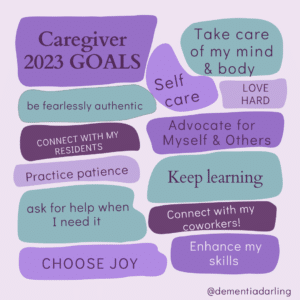 It is great to have goals or intentions for the new year. Whether making career goals, personal goals, or both, it's great to check in with yourself and what you want to achieve in the year ahead! Some of my past caregiver goals were being kinder to myself, trying to engage families more when they visit, and working on my transfer/lifting skills. An example of my past personal goals includes taking my dog on daily walks, drinking more water, and being kinder to myself. I encourage you to assess how things are going both at work and personally and create some achievable goals for you to reach for this year. 😊
Self-Care
Let's talk self-care! I know we all know how important it is but is self-care? There are domains of wellness that make up who we are, and it is essential to care for and nurture all our wellness domains. The six main domains of wellness are emotional, spiritual, occupational, physical, social, and intellectual. It is helpful to write down how you cater to each wellness domain. Everyone is unique, and the care and activities you engage in for each domain will look different for everyone.
Here is an example of how you could create a helpful list to hold yourself accountable for caring for your WHOLE self: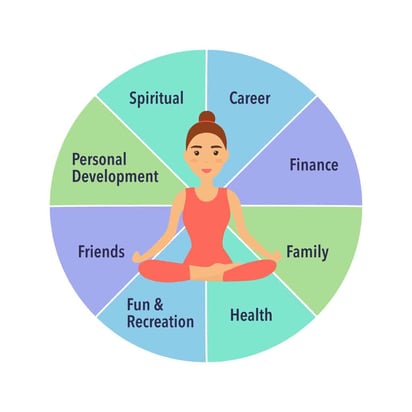 Emotional: talking to someone I trust about my feelings, therapy, creating healthy boundaries
Spiritual: attending spiritual services, listening to music, being in nature, meditating
Occupational: volunteering, giving to others, participating in clubs
Physical: dancing, walking, swimming
Social: surrounding yourself with positive friends, engaging with coworkers
Intellectual: challenging yourself with a puzzle, reading, learning a new skill
You DESERVE self-care. You cannot be your best self without pouring into your own cup. You have such an emotionally, physically, and emotionally demanding job, and you need to protect care for yourself.
Resources to help you embark on your self-care journey!
Dear Dementia Darling
Do you have any questions for me? I want to invite you to reach out to me here or at dementiadarling@iN2L.com with any questions you have about caregiving, iN2L + LifeLoop, dementia, and more! I will answer them through videos that you can access through our systems and on social media (@dementiadarling). Your questions can help other caregivers on their caregiving journey. Let's support each other. I look forward to answering your questions! 😊