Staff Need to be Better Prepared to Support All Levels of Care
A well-trained staff is the bedrock of a senior living community, but with staffing shortages and budget cuts, operators are struggling to provide caregivers with adequate training. Without appropriate training, caregivers struggle to develop the skills they need to support their wide range of resident needs. Many times, caregivers look after residents at varying levels of care, from assisted living to memory care and everything in between. Certified Dementia Practitioner and Montessori Dementia Care Professional Carrie Aalberts recalls her training experience in the field, "I remember having to look after 40+ elders with various conditions by myself. It is completely overwhelming considering how little training you receive within the field. They pretty much make it a one-size-fits-all training program to just get you out on the floor with no real preparation! The training programs usually ask you to watch a video and take a quiz at the end." Oftentimes, video learning translates into passive learning. Active learning, on the other hand, challenges learners to think, discuss, and analyze information, leading to greater long-term retention.
To provide healthcare professionals with training that promotes active learning, many healthcare organizations are turning to virtual reality training. This type of training helps medical professionals develop empathy and emotional intelligence and increases retention capacity fourfold while cutting training time in half. By actively participating in their caregiving training, caregivers develop the cognitive and emotional skills they need to nurture residents at all levels of care.
Immersive Training Promotes Remembering, Not Imagining
Embodied Labs provides caregivers with a first-person, immersive training experience through Web-Browser and Virtual Reality Headsets. The immersive training puts caregivers in the shoes of those they care for, providing them with a valuable perspective into what it's like to live with common health conditions related to aging. In the Beatriz Lab, for example, participants embody a middle-aged Latina woman as progressive Alzheimer's disease causes changes in her brain. They experience onset symptoms as she stands in front of her classroom struggling to teach a math lesson she has taught many times before. Users are taken through a frustrating voice interaction where they, as Beatriz, struggle to find the words to communicate with her loved ones. The module takes trainees through the disease's entire journey, from the onset of symptoms to the transition into residential care. The virtual reality training allows participants to experience the visual, auditory, and language processing challenges faced by those living with the disease. Rather than imagining what their residents are experiencing, caregivers can remember through experience. Virtual reality training allows caregivers to see the world through the lens of their residents, allowing them to strategically provide care that aligns with their needs, perceptions, and realities.
iN2L + LifeLoop offers Virtual Training through Embodied Labs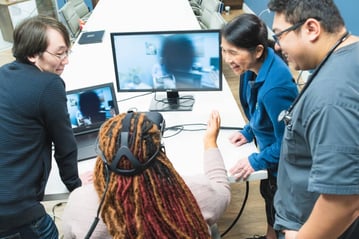 iN2L + LifeLoop takes pride in offering senior living communities technology solutions that support the entire senior living community. That's why we're incredibly proud to partner with Embodied Labs. Through our content library, staff has access to the first two modules, The Beatriz Lab and The Dima Lab. These experiences allow your community to provide staff with innovative training experiences that promote actionable empathy. Carrie shares, "Professional caregivers are often thrown into intense situations with little to no training. They need and deserve an education, support, and empathetic managers." We believe that training opportunities like Embodied Labs equip caregivers with the knowledge they need to be confident and successful.
Better Training Can Save Operators Big Money
The senior living community is an ecosystem. When one area of your community is struggling, it will inevitably affect the entire community. Staff retention and training play big roles in the overall health of a senior living community. According to the Relias 2021 State of Healthcare Training report, more than two-thirds of respondents (67%) indicate that staff development and training have a significant or major impact on top business goals. Yet many operators simply cannot budget more money towards training.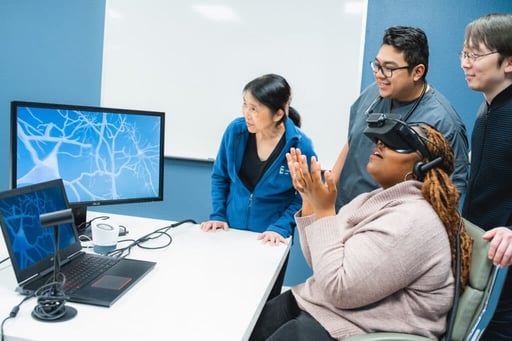 Carrie states, "Unfortunately, the turnover rate creates another barrier to getting the training and support caregivers need. Communities are just trying to stay afloat. If we prioritize providing caregivers with the tools, resources, training, and overall support that they need, I truly believed the issues with staffing would change."
If one thing is clear, it's that providing caregivers with the technology and training they need to succeed is a surefire way to increase staff satisfaction. Increased staff satisfaction leads to higher staff retention rates. As cited by Butler, each nursing position emptied generates a 110% increase in annual costs. Providing your staff with the training they need to succeed will keep residents safe, staff satisfied, and your bottom line profitable. Finding a technology platform that provides a senior living community with multiple solutions, like Embodied Labs immersive training, could be the answer to providing staff the training they need without breaking the bank!
To learn more about Embodied Labs, you can visit their website, https://www.embodiedlabs.com/, or contact your iN2L + LifeLoop customer support team member to learn more!