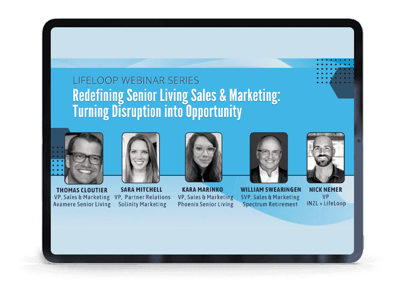 Senior living leaders who have successfully embraced purposeful engagement to enrich the lives of residents, family, and staff are learning the value of meaningful market differentiation. But how can they best express this benefit in their sales and marketing efforts? Watch this webinar to learn why it's important to make sure every department is aligned, and how building a better culture leads to more move-ins, fewer move-outs, and greater overall prosperity.
Watch this webinar to understand:
Why sales and marketing efforts must align with larger cultural goals and operational realities
The benefits of building a strategic partnership between marketing, sales, and operations
Why sales professionals need to stop "feature dumping" and work to understand the experience of the senior care shopper
Fill out the form to access this free webinar today!