With the ongoing pandemic, senior living operators are facing a series of unprecedented operational challenges. It's more difficult to protect the health of both residents and staff. It's also harder to provide the resident experience that attracted residents to their communities in the first place. Not only are these challenges a major threat to occupancy, but they also put new pressure on senior living operators to rethink resident engagement. Many are finding that through teamwork and engagement technology, their community can make significant strides in addressing social isolation and depression among seniors.
If senior living communities take this moment to transform the resident experience with person-centered engagement, they can weather any storm. Social distancing should not stand in the way of helping residents pursue social connections and a purposeful life.
This blog post is the first installment of a two-part series highlighting the benefits of engagement technology. It focuses on:
Why it's essential to mitigate feelings of loneliness and isolation among seniors
Why every staff member should be empowered to deliver person-centered engagement
How engagement technology supports a better quality of life
Read on to discover how strategically deployed engagement technology offers the competitive advantage senior living operators need right now.
Mitigate Loneliness and Social Isolation Among Seniors
Local COVID-19 restrictions have put many older adults in senior living communities into long periods of isolation. They have not been able to socialize or enjoy games, trivia, and other activities in large group settings. Many have not been able to see their children, grandchildren, or other close friends or relatives. They are missing out on vital social connections both inside and outside their community, the type of socialization that used to color their lives. Research from the National Academies of Sciences, Engineering, and Medicine shows that prior to the pandemic:
24 percent of community-dwelling older adults were considered socially isolated
35 percent of adults aged 45 and older were lonely
22 percent of adults in the United States indicated that they "often or always feel lonely, feel that they lack companionship, feel left out, or feel isolated from others"
By giving residents at all levels of care access to stimulating content and engagement experiences, senior living communities can improve overall health and well-being. For example, Project VITAL (Virtual Inclusion Technology for All), a partnership between the Florida Department of Elder Affairs and the Alzheimer's Association, is providing iN2L tablets to residents of senior living communities during the pandemic. To date, the program has distributed 600 iN2L tablets to 300 communities. Each tablet is loaded with more than 1,000 applications. These tablets can be used to safely browse the internet for other items of interest. Not only are these tablets connecting residents to family via video chat sessions, they are also empowering seniors to engage in activities and explore content that interests them, such as puzzles, games, TV shows, and armchair travel experiences.
The ability to enjoy meaningful engagement and use video chat to connect with others helps reduce feelings of loneliness and isolation. Nevertheless, residents continue to crave life-enriching social connections and genuine friendships. It takes a coordinated effort by senior living operators and staff to deliver these key elements of the resident experience, both of which are crucial in mitigating feelings of loneliness and isolation.
Empower Every Staff Member to Deliver Person-Centered Engagement
Senior living communities, even those with the busiest activity calendars, are finding that technology and a team approach are necessary to provide the optimal levels of engagement for each resident.
Many communities are using engagement technology to empower more staff members to connect seniors to people and interests they enjoy. In the process, they are knocking down silos that have traditionally made socialization and cognitive stimulation the exclusive domain of the Activity Department. Any staff member, whether their role is cooking, cleaning, or personal care, can respond to a resident's engagement needs via the community's advanced engagement platform, especially if it has the system features an intuitive user interface. Using a tablet or mobile touch screen system, staff can easily access the right material to respond to a particular resident's signs of boredom, depression, or loneliness.
This technology also meets the needs of senior living communities that are now emphasizing small group activities for three to four residents. Their goal is to provide robust socialization opportunities in a safe, socially distanced manner. These small group activities are executed by "quaranteams," ad hoc teams of staff across many disciplines. Intuitive engagement solutions help staff to quickly match residents' preferences to create groupings or pods that enable meaningful connections. For example, based on residents' profiles, staff can gather three or four garden lovers for activities that align with this passion. These teams can also use mobile touch screen systems to facilitate pop-up activities in hallways, outdoors, or other open, well-ventilated areas. These social encounters lay the groundwork for genuine friendships—something the large group activities often fail to do.
With this technology, staff can provide personalized engagement on demand and support the social connections and cognitive stimulation each resident needs.
Support Better Quality of Life
Engagement technology supports meaningful social interaction at any point in the resident experience, including times when elders are receiving therapy.
For example, limited communication and engagement during a treatment session can be a barrier to a good outcome for residents living with dementia. Therapists can overcome this barrier when technology-enabled engagement systems are used in the rehabilitation department to expand their ability to engage residents and provide more effective care.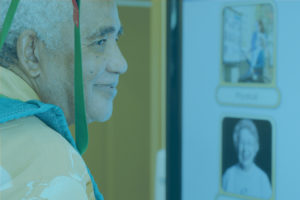 In other settings, engagement technology can be used to help reduce the need for PRN medications. When a resident with dementia is expressing an unmet need, staff can redirect his or her attention with a content experience that matches with the resident's preferences. By helping the resident to focus on personalized content, such as family photos or familiar music, staff can avoid dispensing medication.
Furthermore, engagement technology can be used to help residents feel more connected to others while helping them stay physically fit. A recent Cedar-Sinai study shows decreased levels of loneliness and social isolation among older adults who joined group exercise classes or participated in online versions. When engagement technology is used outside the activity department, it boosts social connections and care quality, ultimately leading to improved quality of life for residents.
Seize This Moment to Transform Your Community With Person-Centered Engagement
Gaining the capacity to fully address residents' needs for engagement will give your community a definite advantage during the pandemic and beyond. Start deploying engagement technology throughout your senior living community and equip the entire staff to use it. The result? The person-centered care residents need the most. For more information on how engagement technology can transform your community, read our case study, The Engagement Imperative: Elevating Technology From the Activity Department to an Enterprise Strategy.