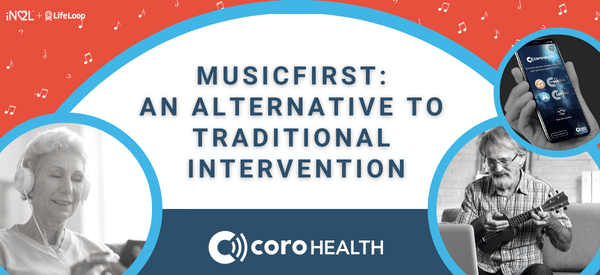 This is Your Brain on Music
The therapeutic effects of music are hard to deny. Whether listening to music to reduce the stress of being stuck in a traffic jam, playing binaural waves to help induce sleep, or playing your favorite album while hitting the gym, it's clear that humans use music to enhance almost every aspect of life. Research indicates that music effectively reduces stress and anxiety, increases focus, reduces the perception of pain, and provides the brain with a release of dopamine. So it should come as no surprise that over the past 20 years, the field of music therapy has boomed! It has seen particularly successful applications in the senior living industry. A study reveals how musical intervention can effectively treat general behavioral and cognitive symptoms of patients with various types of dementia. Many senior living communities are turning to Coro Health's MusicFirst approach as an alternative to traditional resident intervention tactics.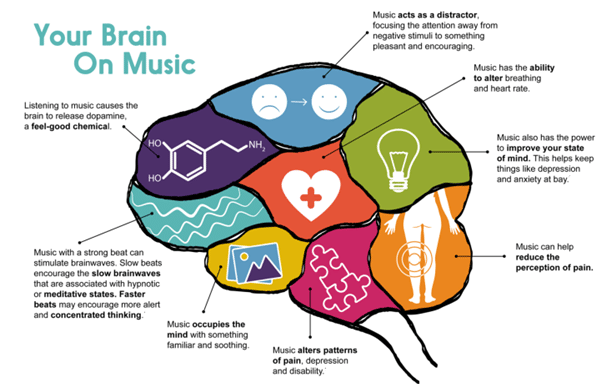 What is MusicFirst?
Coro Health™, an industry leader in therapeutic music and spiritual offerings, defines the MusicFirst philosophy as an approach that utilizes "music first" before (or in place of) more traditional forms of intervention. To support their philosophy, Coro Health created a MusicFirst streaming service to support individuals and caregivers in the healthcare field. The MusicFirst library is comprised of over 2,500 therapeutic music programs. Each supportive music program consists of a series of 8-20 songs that have been strategically sequenced based on Coro Health's Music Prescription™ Builder (MPB), a clinically proven process that was developed by a team of music therapists, music designers, and neuroscientists.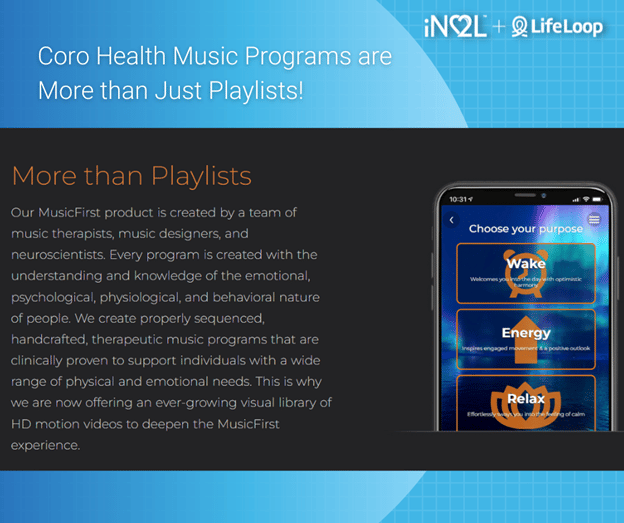 Engagement Technology and Programs Put PRN Medication Last
Many studies have illuminated how engagement technology and programs, like iN2L+LifeLoop and Coro Health's MusicFirst, can decrease the use of PRN medications. PRN, which stands for 'pro re nata' is medication that is administered on a need-to-use basis. Oftentimes, PRN medications are used to decrease agitation and delirium in Alzheimer's patients. A case study conducted with Western Home Communities found that adding four iN2L + LifeLoop engagement technology systems at Martin Health reduced PRN antipsychotic drug administration among residents by 50%. Furthermore, the study saw a 20% reduction in the total number of doses given to all residents with PRN psychotic medications. In a different clinical trial published in the Journal of Music & Medicine, MusicFirst, as a music intervention strategy, reduced agitation and depression in patients in memory care or long-term care settings by 27% to 54%. By implementing engagement technology and programs, including music programs and therapy, in senior living communities, staff can improve the care and quality of life for residents. It's this common mission that has brought iN2L + LifeLoop and Coro Health together!
Coro Health's music programs can be accessed through the iN2L + LifeLoop systems. In the last five years, this partnership has delivered over 5 million clinically proven therapeutic music programs to iN2L + LifeLoop users!
Integrating Music and Technology into Your Community
Music positively affects seniors' quality of life and, with the help of technology, can easily be sprinkled into any part of the day. Passively listening to music has been proven to reduce agitation and anxiety in older adults and is specifically beneficial to those living with dementia. Playing music during other activities like mealtimes, social hours, reading, or game time are excellent examples of how music can be used passively.
Music can also be used more actively throughout the day to enhance activities, like the examples below.
Combine music and exercise (which studies suggest improves cognitive function) to make physical activities more enjoyable!
Add some rhythm to your programs. Residents can create their own music by improvising rhythms on an instrument like a drum (or improvise with bowls or pots) while listening to music.

Improvisation increases cognitive stimulation and attentiveness

, not to mention it's fun!
Plan karaoke nights and sing-alongs. Not only do these activities promote socialization, they also are linked to improving cognitive skills and strengthening muscle function and your lungs!
Technology like iN2L + LifeLoop makes it easy for residents to listen to and interact with music no matter where they are. The large systems can be rolled into rooms for a big-screen karaoke experience or group exercise classes, and the tablets allow residents to listen to music and music programs like MusicFirst while independently engaging in content that interests them.
While technology is not intended to take the place of qualified music therapists, it can be used in conjugation with music therapists to enhance the senior living experience, especially for residents living with dementia.
Get MusicFirst Certified!
Coro Health firmly believes in the healing power of music—so much so in fact, that they provide caregivers and communities with the opportunity to get MusicFirst Certified. Getting MusicFirst Certified has clear advantages for residents, but it also benefits communities and employees.
Benefits of Certifications for Communities:
Demonstrates a community-wide commitment to a more progressive philosophy of care
Provides a unique, highly marketable differentiator for new resident recruitment
Distinguishes your community and acts as a recruiting tool for new employees wanting to work in an innovative and person-centered environment
Supports efforts in your succession planning by revealing leadership opportunities
Benefits of Certification for Employees
Certification classes count toward CEUs *coming soon
A unique differentiator in the job market
Demonstrates a distinct and thoughtful philosophy of care to current and potential employers
However you decide to include music in your senior living community programming, you will certainly see the benefits among your residents. Looking for more ideas? Check out our infographic below with fun ways to incorporate music into daily activities!