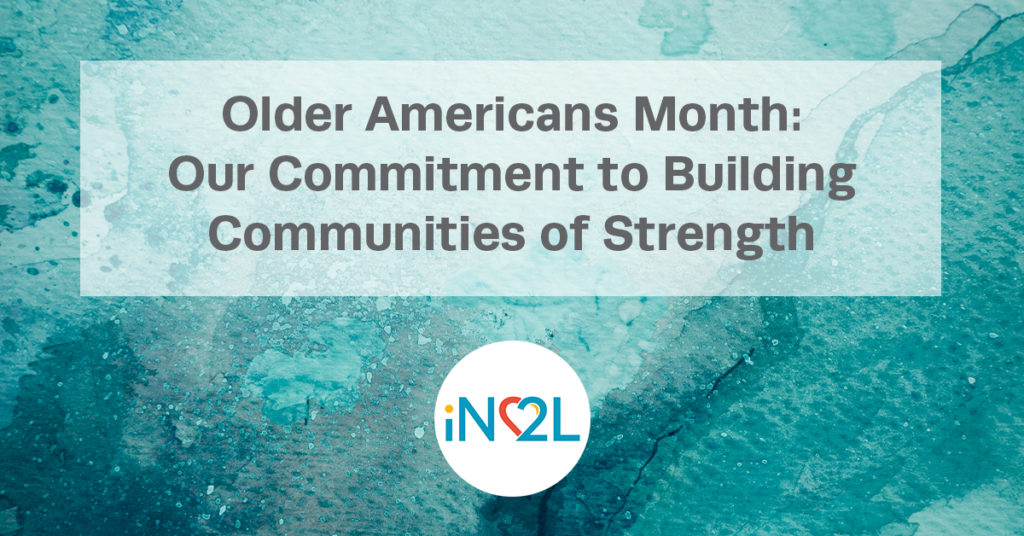 This month, the Administration for Community Living (ACL) leads the celebration of Older Americans Month, and iN2L is proud to join the celebration. This year's theme is Communities of Strength, recognizing the important role older adults play in fostering the connections and engagement that build strong, resilient communities.
We love this theme! It aligns with our goal to create experiences focused on each individual elder that promote camaraderie, meaning, and a sense of purpose. Our senior-friendly technology empowers older adults to stay connected to families and loved ones. It also brings them joy as they engage in fun individual and group activities. Through our content-driven engagement solutions, we help build Communities of Strength for seniors, wherever they call home. And we positively impact every member of the community around them.
Building Communities of Strength
We are proud of the ways iN2L technology brightens nearly 4,000 senior living communities with social connections and purposeful engagement. Our technology is also being used in residential homes across the country. Through Project Vital at Home and other initiatives, seniors and their caregivers are using iN2L tablets for memory care support. These devices keep elders included in family life, provide the cognitive stimulation they need for healthy aging with dementia, and serve as a resource for their caregivers.
Precautionary isolation and social distancing make older adults more susceptible to feelings of loneliness and depression. These conditions can increase their likelihood of experiencing rapid cognitive and physical decline. That's why using technology to bridge the digital divide that separates elders from loved ones has been a big win during the pandemic.
We wholeheartedly agree with ACL's perspective that strength is built and shown not only by bold acts, but also small ones of day-to-day life. Among seniors, that could be meaningful moments, such as:
Conversations shared with friends over bingo
Making videos call to loved ones
Enjoying digital photos received from family
Working on a puzzle together
Trying a new recipe
Arm-chair travel to distant places
Singing favorite songs
And so much more
These are just a few examples of the experiences that iN2L solutions enable. When seniors enjoy these activities with others—whether it's virtually, physically distanced, or by telling about the experience later—they build resilience.
Join Us in Sharing Moments of Strength
It has been challenging during the pandemic for communities to connect and engage. But there are so many examples of seniors and their families and caregivers prevailing to create meaningful moments.
That's why we're delighted to recognize Older Americans Month by putting the spotlight on seniors in assisted living and other congregate settings, as well as those at home with their caregivers. We will be sharing these moments of strength on Facebook and Instagram using #StrongerWithiN2L and #OlderAmericansMonth
We encourage iN2L communities and caregivers to share their meaningful moments of strength that were facilitated by iN2L engagement solutions. The awareness we create can help build a stronger future, where elders are included in our digital society and are empowered to age joyfully with dignity and respect. Be sure to tag iN2L in your posts.
We also encourage you to learn more about Older Americans Month. For more resources, visit the official OAM website, follow ACL on Twitter and Facebook, and join the conversation via #OlderAmericansMonth.