My grandfather helped raise me, and his journey through memory care is one of the reasons I am working in this industry today.
Today, I am a Regional Sales Manager at iN2L. I work with all types of senior living communities to help them acquire iN2L's senior-friendly technology to enhance the place elders call home. This technology helps care teams unite around each resident and give them the meaningful connections they need to thrive.
My experience in senior living started when I volunteered at communities as a child. My stepdad was a volunteer, and he would have my siblings and I help at the community as well. There were times when we would accompany elders to the fair and other outings to offer elders companionship and help keep them safe. So, I've been in communities for a long time now, and I learned the importance of activities programs and the people who are dedicated to enriching senior lives. I also learned how community living can support elders' well-being by keeping them engaged.
However, witnessing my grandfather's experience at his memory care community and seeing the progression of the disease made me even more appreciative of the incredible care and compassion provided by essential caregivers in memory care communities. I am grateful for the excellent care he received, as well as the efforts staff made to connect with him and my family.
My Grandfather's Journey to a Memory Care Community
I was in college when my grandfather had to move in with my family. I was back at home visiting when he had his first bad incident with dementia. He walked up to me and then suddenly sat on the floor, kind of yelling, "I need my boots to get off!" He wasn't wearing any boots, but he was exclaiming, "I need to get them off! I need to get him off!" So, I started pretending to help remove them.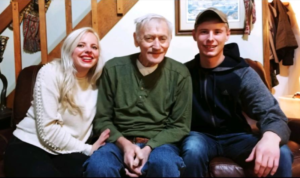 From that moment, I just kind of knew that things were going to get progressively worse. Later that year, he was diagnosed with cancer and Parkinson's disease. We were told he only had six months to live; he ended up living two more years.
It's often not easy for elders to accept a senior living community as their new home—and it's just as difficult for their family. Even with our longtime involvement in senior living communities as volunteers, my family and I struggled with the realization that it was the best option for my grandfather. So much happened leading up to that decision, and there were a lot of family members involved in the process. Ultimately, we had to take the best action for the one person whom everybody loved.
The biggest part of what I learned through this experience is that we put my grandfather in a community because we could not take care of him on our own. We did not want him to be lonely or isolated, but no one had the ability to provide full-time caregiving. And I know that that is a very common factor for why a lot of people move their loved ones into communities. We joined the thousands of families that entrust their loved one to memory care communities. We grew more comfortable with our choice as we saw the dedication of the staff, who took time to get to know my grandfather and keep him engaged as best as they could.
Around that time, I happened to attend an industry conference. That's where I first saw iN2L technology. I was amazed at how this technology instantly connects seniors to the things they enjoy. I couldn't help but think about how this could help my grandfather and his caregivers.
The Impact of Caregivers' Compassion
My grandfather was a huge wanderer in his memory care community. He was always looking to talk to other people, to find friends. And he loved to play music; so, he would bring his guitar all around the community.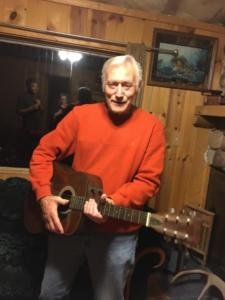 His caregivers had a difficult time redirecting him and managing his need to constantly search for people. They wanted him to feel like he was at home and calm down. And honestly, the only way they were able to accomplish this was by playing Johnny Cash music, which they played often. During those times, he would sit down and start tapping his fingers. Another thing that worked for him was playing the movie Walk the Line, which tells the story of Johnny Cash's life.
I went from seeing my grandfather progress from being a functioning, happy senior to someone who was agitated, upset, and struggling with Alzheimer's and Parkinson's. When I would visit my grandfather, I would see him trying to connect with people. It was very hard to get his attention, especially without the things that he cared about—the movie, the music. You couldn't have a conversation without those pieces. But when the Johnny Cash music or movie was playing, it was like having my Grandpa back again. So, that to me was extremely special. His journey really helped me understand iN2L's mission and led me to where I am today.
I am grateful that my grandfather had the opportunity to live in a great memory care community. He was surrounded by caregivers who were always looking for ways to connect residents to things that were meaningful to them. Providing this type of personalized, intensive care can be challenging and sometimes overwhelming. How can you spark meaning in the lives of each unique resident when your community may be short-staffed or social distancing protocols may be in place?
Having access to tools like iN2L can make what staff do easier and more meaningful to seniors. For example, one of the communities I work with has a memory care unit, which just started using iN2L. Caregivers were excited to use iN2L technology because every night, one of the residents would wake up and wander. This elder was always looking for his car, and staff were always seeking ways to redirect him. Managing his behavior was challenging, because when they would talk to him, he would get frustrated and overwhelmed.
I think iN2L's driving simulator will help these caregivers 100%. They can say, "Oh, you want to go for a drive? Let's use this." And they can pull up content relating to cars to redirect him.
Supporting the People Living With Alzheimer's and Their Caregivers
All too soon, my grandfather ended up passing away. But I will never forget those fleeting moments sparked by Johnny Cash music when my grandfather was content, anxiety-free, and feeling like himself again.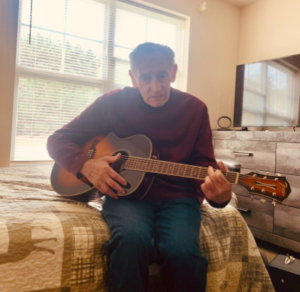 I'm very appreciative of the way caregivers in his memory care community treated him with patience, care, and dignity, providing comfort to both him and my family.
I'm proud to work for a company that's making it easy for caregivers to help seniors experience the kind of meaningful, relevant, person-centered engagement that my grandfather benefited from in senior living. iN2L's mission is to fill seniors' days with moments like those—and more. It's never too late to lead a joyful life connected to the people and things you love.
It's also never too late to celebrate the lives of our elders and the dedication of staff in memory care centers.
To our elders in memory care, we pledge to help you continue to find joy and purpose every day. To caregivers and staff, thank for all that you do to create the best circumstances for elders, put families at ease, and spark joy in seniors' lives.
---