Engaging, person-centered care is the catalyst for a happy, vibrant, and healthy aging experience. Providing residents with meaningful activities stimulates learning, sparks conversations, encourages friendships, and ignites passion and purpose. While the benefits of offering residents dynamic activity programs are undeniable, tight budgets and staffing issues have historically made this feat unattainable for many communities. Thankfully, the technology boom in the senior living space has quickly changed this narrative making person-centered care programs a reality and an expectation. "Even though the senior population is increasing, they will be looking for choices. They will be looking for those operators that give them the quality of life that they desire and have grown accustomed to," says Navin Gupta, Chief Executive Officer of iN2L + LifeLoop. He adds, "This really speaks a lot to the content and features we provide here at iN2L + LifeLoop. Our technology focuses on supporting the quality of life for seniors by targeting all the dimensions of wellness, such as intellectual, physical, spiritual, emotional, and social well-being."
In this blog, we celebrate four tech-savvy communities—Brookdale Valparaiso Memory Care, Carillon Memory Care, Provision Living at Fenton, and Westmont at San Miguel Ranch—and the innovative ways they use iN2L + LifeLoop technology to create engaging resident experiences that lead to high satisfaction rates. These communities are the proud recipients of the 2022 Communities That Shine Awards.
---
Recipients of the Brilliance in Engagement Continuity Award

Brookdale Valparaiso Memory Care caters to a diverse range of residents, each at varying levels of care. Jennifer Bailey, the Memory Care Program Coordinator at Brookdale Senior Living, emphasizes the significance of meeting residents where they are in their journey, from the early stages to the advanced stages of Alzheimer's disease. With such a broad spectrum of needs and abilities, the care team at Brookdale understands the importance of adaptability. The versatility of iN2L + LifeLoop technology allows them to bring engaging experiences to group settings, such as fun trivia sessions, as well as to the rooms of residents who may have limited mobility.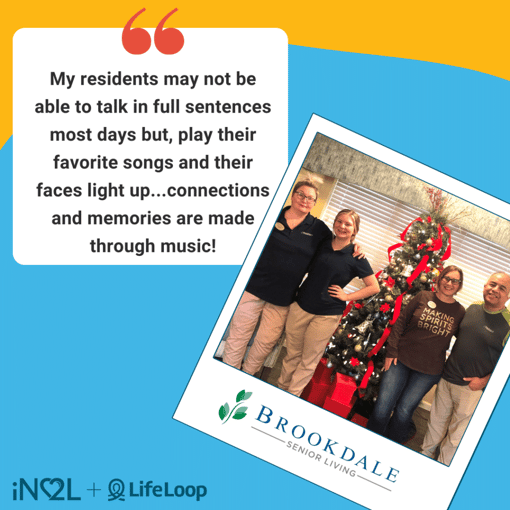 Bailey demonstrates how she utilizes the iN2L system to bring the power of music to her memory care residents and how it helps to activate memories and emotions that bring smiles to their faces. She shares, "Some residents are able to stand up and dance with me but not too many. It is more of holding their hands and swaying back and forth. You can see the twinkle in their eyes, maybe a tapping toe, humming, clapping hands, or a big smile on their face. My residents may not be able to talk in full sentences most days but, play their favorite songs and their faces light up…connections and memories are made through music!
In addition to enhancing resident experiences, the community relies on iN2L + LifeLoop technology to keep residents connected to their families, friends, and larger communities. Bailey recounts a heartwarming story about a resident who heavily relied on the iN2L system to remain active in his religious community, despite being physically unable to attend in person. She recounts, "We would take the iN2L machine into his apartment for him to be a part of his [religious] meeting every Sunday. He could see and hear his friends and family and they could see and hear him too. In the beginning, he had enough energy to watch and be a part of the almost 2-hour meeting. His daughter and son-in-law got to see him when she was not allowed to come into the building because we were not letting any family come into the building due to Covid. As Sam declined he only wanted to get dressed from the waist up in his meeting clothes. When he declined more he was laying in bed just watching but, they could not see him because, he did not want his friends to see him so sick so we turned the camera off but, still had sound so his family and friends could still hear him and he could see all of them." Bailey and the entire Brookdale team appreciate how iN2L + LifeLoop technology enables residents to maintain connections with cherished memories, friends, and family, regardless of their abilities. Bailey adds, "I love this story because, this [iN2L + LifeLoop technology] kept Sam connected with his faith, family, and friends."
The Brookdale team's determination and passion for connecting residents with moments that bring them joy and meaning is truly what makes them shine. Their commitment to harnessing the potential of iN2L + LifeLoop technology to expand the reach of these transformative experiences serves as a testament to their unwavering spirit of innovation.
---
Recipients of the Brilliance in Resident and Family Satisfaction Award

Carillon Memory Care is dedicated to fostering the skills and excitement of its residents through engaging experiences. To accomplish this, the integration of iN2L + LifeLoop technology has become an indispensable tool. Kay Nichols, the ISH Director at Carillon Memory Care, excitedly shares how this technology has opened the door for fun, social activities that encourage friendships and learning. Nichols explains, "Our residents are intrigued by the technology and are excited about learning more. Having access to such a variety of options through iN2L [content] has allowed our program to stand out among other area programs. iN2L [content] allows us to…focus more in-depth on each one's individuality in their day-to-day activity involvement. With iN2L, the Carillon Memory Care Community now hosts dance parties, group sing-alongs, game nights, travel clubs, and therapeutic music sessions to help residents unwind after eventful days. Nichols reports, "Our time is now devoted to the residents, instead of making copies and searching websites to plan our calendars."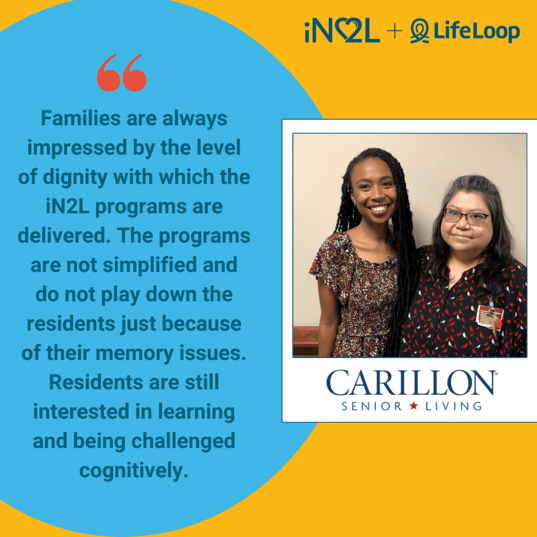 The iN2L + LifeLoop technology has also propelled this remarkable community ahead of its competitors. "During tours with potential new residents and their families, the focus is on how each day is structured and the available services. Families are surprised at how easy the iN2L + LifeLoop system is to navigate, that using technology was even a possibility with their family members, and the seemingly endless catalog of activity options. iN2L affords us the capabilities to provide residents with new experiences and to deviate from the typical programs out there. iN2L content like the Worship Services and the Learn Segments related to art and dance, help to broaden our residents' perspectives."
Nichols also emphasizes how impressed families are with how iN2L content stimulates memory care residents in an honorable manner. She explains, "Families are always impressed by the level of dignity with which the iN2L programs are delivered. The programs are not simplified and do not play down the residents just because of their memory issues. Residents are still interested in learning and being challenged cognitively."
Incorporating iN2L + LifeLoop technology in a manner that challenges and stimulates residents has the power to awaken parts of their personalities that may have been seemingly dormant. Nichols shares heartwarming comments from family members such as, "It's so wonderful to see her engaged in activities again!", "She feels like my Mom again! She looks so happy here," "My mom and I are learning together!", and "Mom has become a computer whiz!"
iN2L + LifeLoop is proud to support this shining community's mission to challenge its memory care residents with programs that are not simplified or condescending, but rather stimulating and educational. Recognizing its residents still have a genuine interest in learning and cognitive challenges is truly what makes Carillon shine!
---
Recipients of the Brilliance in Nurturing Family Connections Award

Provision Living at Fenton understands the important role of communication in enhancing the lives of its residents and staff. With LifeLoop as their reliable tool, this bustling senior living team remains seamlessly connected, whether it involves internal staff communication, community announcements, flu clinic coordination, or COVID notifications.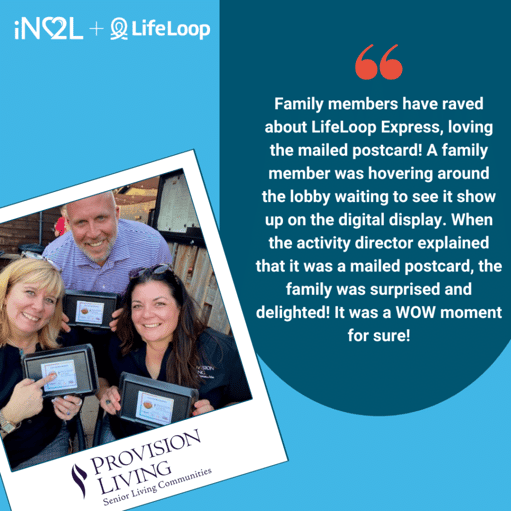 Holly Henderson, Director of Memory Support Services at Provision Living, raves about the exceptional operational support provided by LifeLoop's senior living software. Not only does it save valuable staff hours, but it consistently "wows" families. Henderson enthusiastically shares, "Family members have raved about LifeLoop Express, loving the mailed postcard! A family member was hovering around the lobby waiting to see it show up on the digital display. When the activity director explained that it was a mailed postcard, the family was surprised and delighted! It was a WOW moment for sure!"
Moreover, the Fenton team also shines in keeping strong lines of communication by utilizing readily available data on resident attendance at regular family meetings. This empowers them to keep families well-informed about their loved ones' engagement in various events. Henderson underscores the significance of this data-driven approach, stating, "Our activity directors are able to speak definitively about this data instead of it being a "hunch" or a feeling."
Provision Living at Fenton's commitment to keeping their community connected ensures better outcomes for residents and staff alike.
---
Recipients of the Brilliance in Person-Centered Engagement Award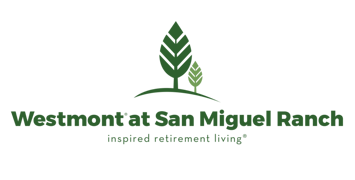 Promoting a holistic wellness lifestyle is a crucial pillar of resident life at Westmont at San Miguel Ranch. This technology-savvy community is home to a Navigator Memory Enrichment Program, a program tailored to meet the needs and abilities of people who are experiencing memory loss. While custom tailoring holistic wellness programs to residents at various levels and capabilities can seem like a daunting task, this powerhouse team leverages the power of iN2L + LifeLoop technology. This innovative combination not only provides residents with personal and meaningful content but also enables the interactive sharing of these enriching experiences with their families.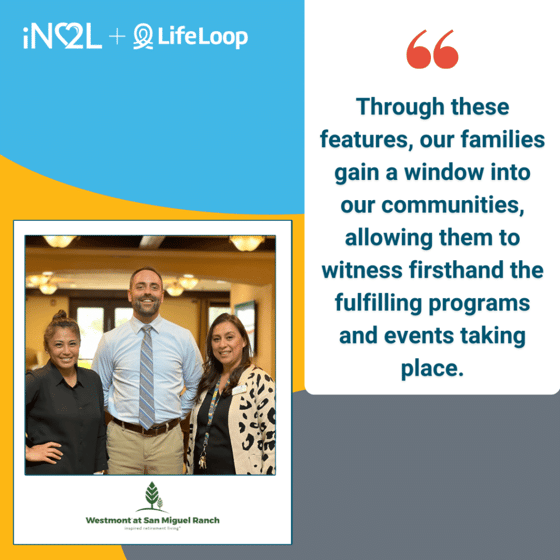 Michelle Morales, Regional Director of Lifestyles & Memory Care Programs at Westmont Living, Inc., enthusiastically states, "iN2L + LifeLoop are true catalysts for deeper connection! By utilizing iN2L + LifeLoop, we can enhance and cultivate person-centered programs effortlessly." The team recognizes that strong communication and involvement of family and loved ones are crucial elements in creating person-centered care. Through the utilization of iN2L & LifeLoop, Morales explains how family members, whether near or far, can actively participate by staying connected through real-time access updates, photo and video sharing, and messaging. Among the array of valuable features available, the photo-sharing and attendance features have become particular favorites among families. Morales remarks, "Through these features, our families gain a window into our communities, allowing them to witness firsthand the fulfilling programs and events taking place."
At Westmont at San Miguel, person-centered engagement in memory care facilities is not merely a luxury but an essential need. The community shines as an outstanding example of how technology can play a significant role in carrying the weight of this responsibility, making person-centered care accessible to everyone, regardless of their cognitive abilities.
Thank you for your dedication to enhancing communication and building connections!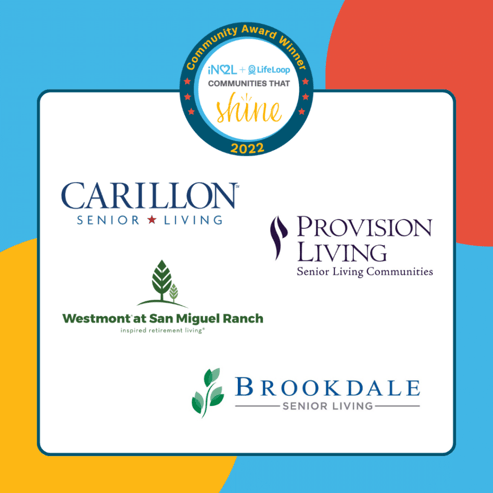 Our beloved senior population deserves nothing less than the chance to engage in enriching and diverse activity programs as they celebrate the later chapters of their lives. At Brookdale Valparaiso Memory Care, Carillon Memory Care, Provision Living at Fenton, and Westmont at San Miguel Ranch, technology stands as a beacon of empowerment, equipping these communities with the necessary tools to curate resident experiences that inspire personal growth and purpose across all levels of care. These exceptional senior care organizations serve as shining examples of how technology can revolutionize the senior living experience for everyone involved.
LifeLoop's senior living software was designed to enhance the resident experience at all levels of care, from independent living to assisted living, to memory care and everything in between. To learn more about the LifeLoop platform, check out our blog.