Grief Comes in Many Forms
Professional caregivers often experience grief. I encourage you to open a dialogue in your community about grief and how it affects staff, residents, and families.
Most people do not expect to experience grief as a regular work emotion. Unfortunately, grief is a very common emotion experienced by caregivers. As a caregiver, you become close with the people you are caring for. When you watch these people move through their journey, it can be difficult to process.
It's helpful to be aware that grief can manifest in different ways and that everyone grieves differently. As cited in the article Professional Caregiver Grief, grief can trigger many ways emotions including anger, anxiety, blame, helplessness, and guilt. Sometimes grief can manifest through physical symptoms such as fatigue, body aches, stomach pain, shortness of breath, and brain fog/memory loss to name a few. There is no timeline for the grieving process and oftentimes it takes a toll on our mental health. Contrary to popular belief, it's important to talk about these very normal reactions. I encourage you to speak up about these feelings. You can begin by creating a safe space at work and home for you and others to share feelings of grief.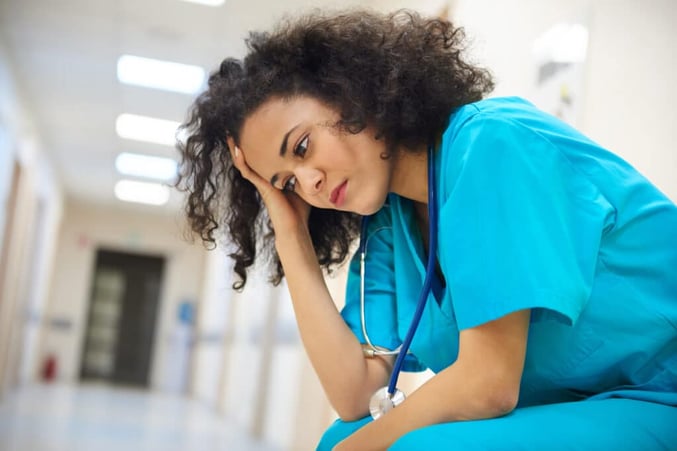 Two Types of Grief
Caregivers of those living with dementia often experience different types of grief. Two types of grief that are common include anticipatory grief and ambiguous grief. Anticipatory grief is the sadness we feel when we are anticipating new changes or losses that will come. You begin to anticipate the next loss, whether it be their personality, a skill, or that the person will pass away. Ambiguous grief is the grief that comes with seeing your loved one physically present but not mentally or emotionally present. This is grieving the person they once were. You may see family members experiencing these types of grief when they visit their loved ones. These difficult emotions often make it difficult for families to visit, so be gentle with families as they navigate these new and scary emotions. And don't forget to be gentle with yourself as you navigate your own feelings of grief! Watching after residents as they go through changes can be very difficult and emotionally taxing.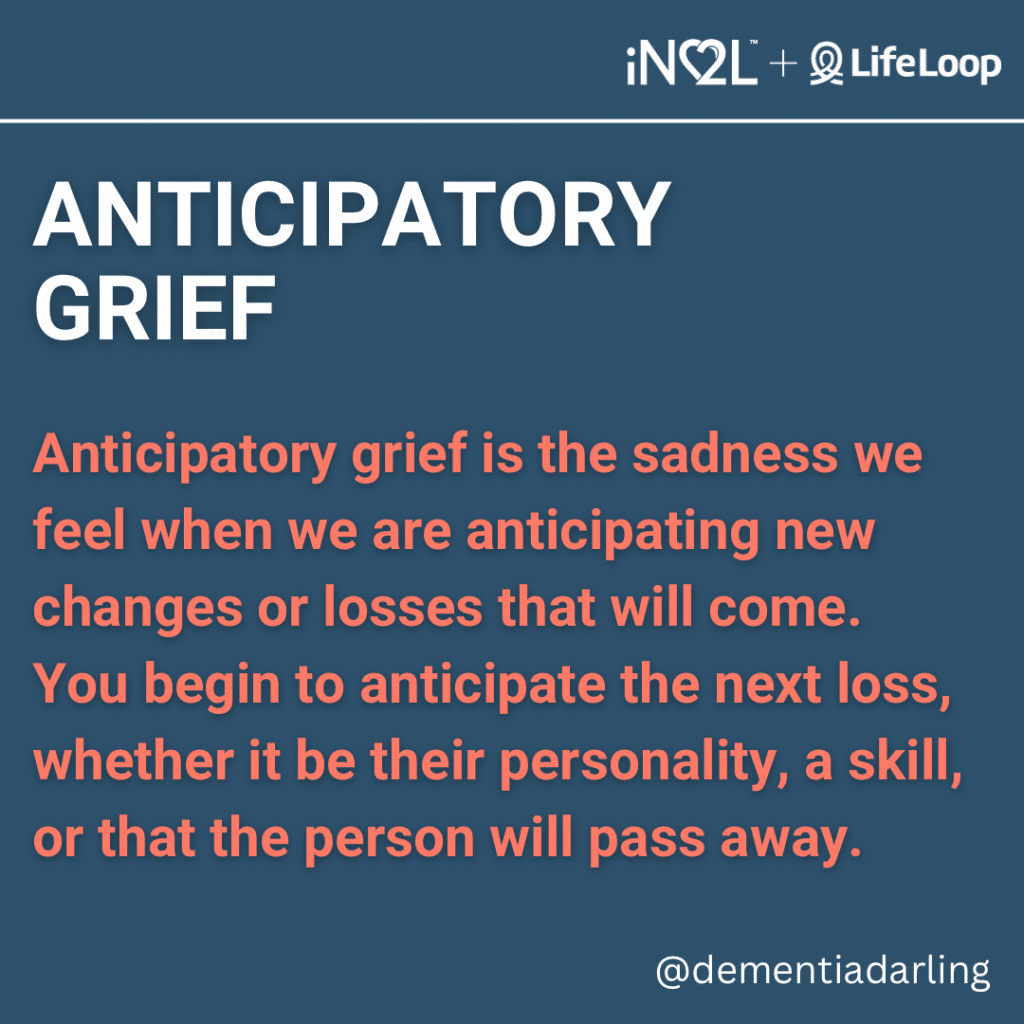 The Holidays May Not Be Jolly
You may notice heightened emotions during the holidays. This time of year is difficult for many and not always filled with joy. Family caregivers of loved ones living with dementia often find themselves noticing their loved one's well-being decline oftentimes due to changes in family holiday traditions. For example, their loved one may traditionally have been the best holiday decorator and party host, however, due to their dementia they no longer remember their family holiday traditions or even recognize it is a holiday at all. Understandably, this can be heartbreaking for caregivers to realize, accept, and come to terms with. Supporting your families in making new holiday memories is something you can do to help them through this transition.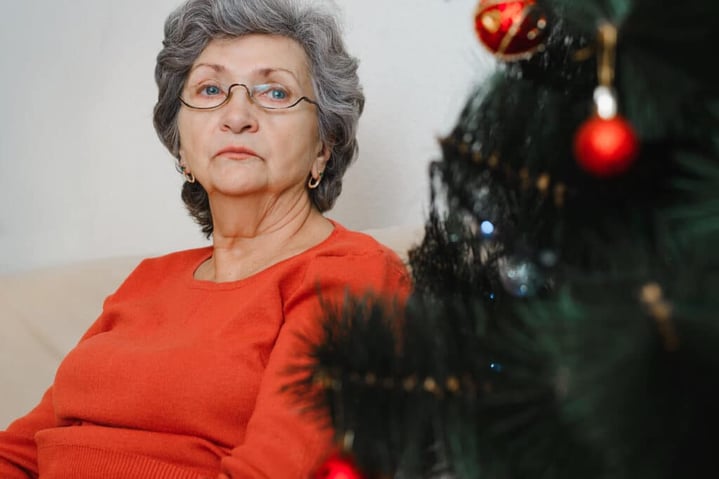 Resources for Coping with Grief
Coping with grief is not easy, but you do not have to do it alone! There are loads of resources and networks available to help you cope. Check out some of my favorites below:
Saltbox TV – This resource is conveniently located on the iN2L system under the WATCH button. Saltbox TV is basically Netflix for seniors! Saltbox TV is available via desktop computer, Roku TV, or Amazon Fire TV for FREE, as well. In Saltbox TV, you can find a show by the one and only Teepa Snow called Grief and Loss, When Dementia is Part of the Family – A Conversation with Teepa Snow. This is a valuable resource to share with your families.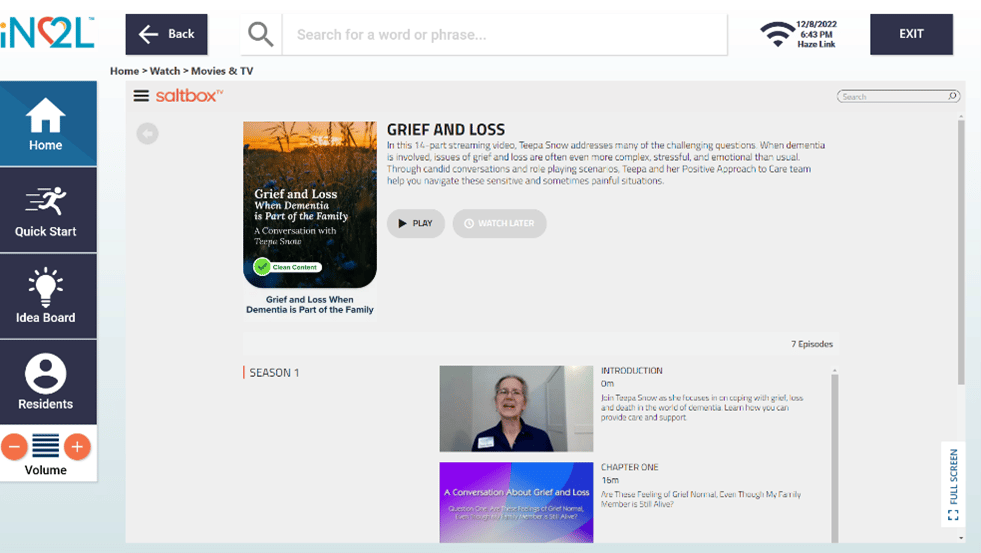 The Caregiver Forum is a place where you can post questions and read through others' comments and threads. This is a great place to build a network of support.
Use the Alzheimer's Society Checklist to help you live positively with ambiguous loss and grief.
Check out the incredible community on social media for grievers. There are plenty of pages for you to find your tribe. Start by looking up the hashtags #grief and #dementiasupport.
Helping Loved Ones and Residents Cope With Grief
Lastly, it is important to note that your residents will experience grief too. Your residents, even those living with dementia, grieve. We all grieve. Try to be a listening ear for your residents and acknowledge their feelings about the changes they are experiencing. Your residents living with dementia may show their grief through anger, agitation, weepiness, isolating behaviors, and more. The best thing you can do is validate their feelings, whether you can understand what that is or not, and validate that they are having a hard time and that it is okay to be struggling. Remind them that you are there to support them.
The Alzheimer's Association goes into depth on the ways to cope with grief and loss, which are listed below:
Face your feelings.
Prepare to experience feelings of loss more than once.
Claim the grieving process as your own.
Talk with someone.
Combat feelings of isolation and loneliness.
Join a support group.
Know that some people may not understand your grief.
Accept yourself.
Take care of yourself.
Grief is an emotion that impacts every single one of us. You are not alone! By talking openly about our feelings of grief, we can change the narrative and begin moving towards a healthier tomorrow.
Dear Dementia Darling
Do you have any questions for me? I want to invite you to reach out to me here with any questions you have about caregiving, iN2L + LifeLoop, dementia, and more! I will answer them through videos that you can access through our systems and on social media (@dementiadarling). Your questions can help other caregivers on their caregiving journey. Let's support each other. I look forward to answering your questions! 😊