In today's fast-paced digital era, effective communication is no longer a luxury, but a necessity, especially within the senior living space. Despite the physical distance that often separates families from the senior living communities in which their loved ones reside, they still expect to maintain the same level of meaningful engagement and interaction. Additionally, seniors in independent and assisted living, memory care, and other forms of senior living communities are seeking communities that make socialization and forging new connections a possibility. iN2L + LifeLoop's senior living software and technology empower senior living communities and all those involved to stay connected and involved.
In this blog, we celebrate three tech-savvy communities—Balfour Louisville Campus, Jackson Creek Senior Living, and LifeStream Services for Connecting Communities—and the innovative ways they use iN2L + LifeLoop technology to enhance communication across their entire community and build connections that spark purpose! These communities are the proud recipients of the 2022 Communities That Shine Awards.
---
Recipients of the Brilliance In Enterprise Readiness Award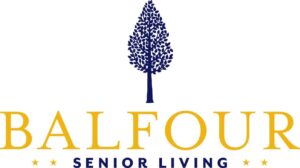 On December 30, 2021, a devastating fire broke out in Louisville, Colorado, home to four Balfour senior living communities: Balfour at Cherrywood Village, Balfour at Lavender Farms, Balfour Retirement Community, and The Lodge & Residences at Balfour. This catastrophic fire, known as The Marshall Fire, forced thousands to evacuate their homes encompassing various levels of care, including independent living, assisted living, memory care, and skilled nursing, as well as the evacuation of the 400 dedicated staff members. The evacuation needed to occur in less than a five-hour span. The heroic staff of the Balfour communities was able to work quickly to transport residents to safety, using a little help from LifeLoop.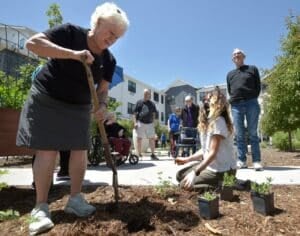 With a strategic plan in mind, the Balfour Community Executive Directors were able to securely transport residents to safety. The utilization of LifeLoop played a crucial role in facilitating efficient communication and seamless execution of the evacuation plan while everyone was on the go. Julie Nash, Co-President and Chief Operating Officer at Balfour Senior Living, recalls, "These Executive Directors were on the move for the duration of the evacuation and then some. There was no time to sit at their computers to compose communications with residents and their family members. Imagine the stress and worry of our family members. Some live locally and were themselves evacuated, adding to the stress. Some live out of the area and even out of the state and likely felt helpless." With LifeLoop, staff, families, and residents were able to stay in close communication, ensuring vital procedures and updates were being communicated in real time. She shares, "With this web-based app, our leaders were able to allay all fears by sending quick and timely messages via their mobile devices. Family members received texts, emails, and calls via LifeLoop's streamlined contact management system. Communication with residents and families became one less thing to triage as our Executive Directors secured transportation, accommodations, food, and other basic needs."

LifeLoop came especially handy in evacuating the Balfour at Cherrywood Village community, whose memory care residents require a very high level of care. This evacuation demanded meticulous attention to detail and protocols to ensure the residents stayed safe and calm, staff stayed in control, and families stayed in the loop. Nash explains how the use of LifeLoop allowed staff to manage the evacuation demands, stating, "Access to the community became limited to first responders, thus isolating our residents from their loved ones and from additional staff members from sister communities trying to reach them to assist. Having LifeLoop available on their mobile devices allowed our team to communicate with families while moving med carts, packing belongings, or loading wheelchairs."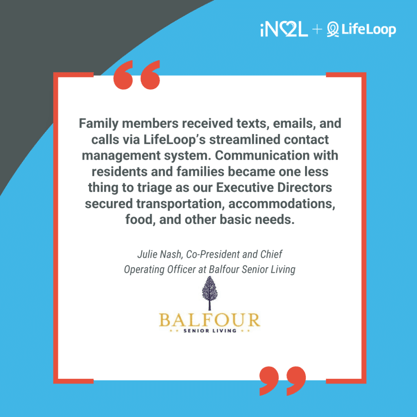 The Balfour communities stand as a shining example of how technology can empower staff with the essential communication and operational tools they need to turn a hectic situation into a triumphant display of teamwork. Their success in safely evacuating residents amidst the Marshall Fire is a testament to the power of technology in facilitating seamless communication, enabling staff members to collaborate effectively and provide exceptional resident care, even through the thickest of smoke.
---
Recipients of the Brilliance in Staff Efficiencies Award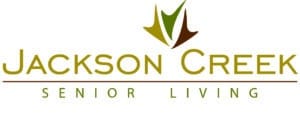 LifeLoop's senior living software, coupled with iN2L content, empowers the Jackson Creek Senior Living staff to make a bigger impact on resident engagement while facilitating operations and planning. The Memory Support neighborhood is amazed by the range of meaningful conversations that utilizing iN2L content sparks. Melinda Sukle, Life Enrichment Director at Jackson Creek Senior Living, shares how Karaoke, the Hymn Collections, and videos are used weekly to encourage laughter, socialization, and learning. They are considered, "essential tools for spiritual or reminiscing opportunities," explains Sukle. She joyfully recounts a recent encounter in which she witnessed a Life Enrichment associate captivating residents with a sheep shearing video. "Just the other day I was walking by to see my Life Enrichment Associate showing the sheep shearing video and the residents were captivated by the images. Some were amazed as others laughed joyfully at how much wool came off the sheep. It led to a fun discussion that everyone was enjoying," she recalls.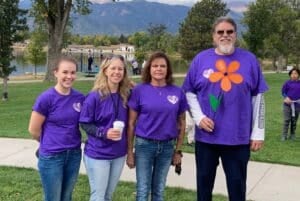 With the help of iN2L + LifeLoop technology, the shining staff at Jackson Creek Senior Living provides residents with outstanding personalized care. The team utilizes LifeLoop's 'Likes' feature with each resident. They add resident interests or favorite activities and subjects into their resident profile. Then they export an automated report which lists residents' interests, activities, and common interests to create a tailored activity calendar. Sukle explains how this feature has boosted attendance while also freeing up staff time. She shares, "We can export a list of people who enjoy WWII history, Uno, dancing, painting, or any activity and we can personally invite them to our program that we've spent time planning. Our attendance is so much higher due to LifeLoop's robust platform and lends our staff to spend more time with the people than in the office."

Jackson Creek has also done a tremendous job of increasing family engagement. They encourage family members to share photos and messages with their loved ones using LifeLoop's Family Portal. Staff also enjoy the ease with which they can send family members invitations to events. Sukle shares, "We use the Announcement feature to share all the amazing programs that are going on each day so families can join in and/or encourage participation. Just this week we were able to invite families to participate in our Alzheimer's Awareness events and increase participation and fundraising efforts to support the cause."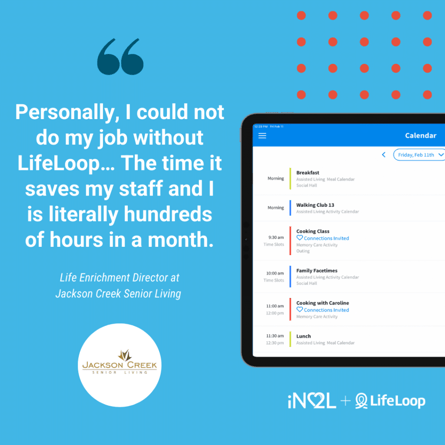 This resident-oriented community has been able to put resident care first in part by using technology like LifeLoop to streamline operations and increase staff efficiency. One feature is a community favorite, the event and calendar programming features, which allows them to effortlessly create weekly schedules and pull attendance reports. Sukle excitedly shares, "Personally, I could not do my job without LifeLoop. It is my best friend in the office, and the ability to add a program or event to the calendar and then replicate it with the click of a button is amazing! Once it's added I can create daily, weekly, bi-weekly, and monthly schedules, and pull attendance for month-end reports, which is incredible. The time it saves my staff and I is literally hundreds of hours in a month." One thing is certain: the Jackson Creek Senior Living team is a shining example of how technology allows staff to spend more time making an impact!
---
Recipients of the Brilliance in Individual Engagement Award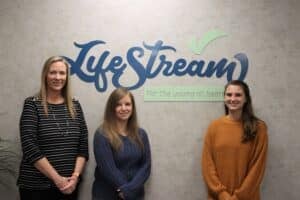 LifeStream Services is an esteemed, award-winning non-profit that provides a range of comprehensive programs and services designed to support individuals at risk of losing their independence, their families, and their communities. Serving 12 counties in East Central Indiana, they have successfully utilized iN2L + LifeLoop technology to combat feelings of isolation and loneliness among seniors.
Coming out of the pandemic, Mandy Williams, Vice President, Programs at LifeStream Services, witnessed a drastic rise in isolation and loneliness. Particularly hit hard were seniors living in rural areas of Indiana with limited internet access. Introducing technology like iN2L became a vital lifeline for these individuals, providing them with reliable means of connecting with the world around them. Williams shares, "The iN2L tablets, with their cellular capability and ease of use, were the perfect solution to providing a tool to these individuals to promote connection and lessen these feelings of isolation and loneliness. We currently have tablets in 29 homes, and participants are using these to connect with friends, family, and other program participants via the Zoom feature and special programs offered by LifeStream."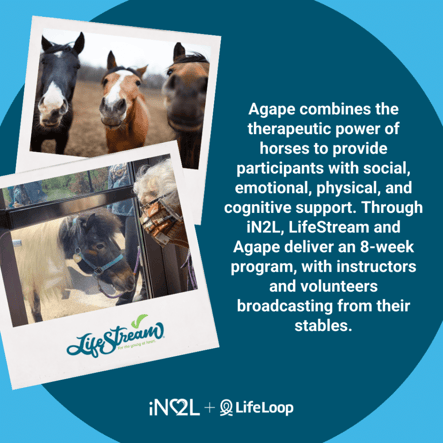 One of the special programs offered through LifeStream is a virtual reminiscing program developed in collaboration with Agape Therapeutic Riding. Agape combines the therapeutic power of horses to provide participants with social, emotional, physical, and cognitive support. Through iN2L, LifeStream and Agape deliver an 8-week program, with instructors and volunteers broadcasting from their stables. Every session highlights different discussion topics such as weather or seasons, for example. These discussions are meant to encourage participants to reminisce and hold an open conversation. They also use trained ponies to provide participants to promote engagement through encouragement while offering entertainment as well. Williams recounts a participant saying she really liked, "getting the girls together," and "seeing the ponies," because it was something exciting to break up the monotony of the day-to-day routine. Williams even had a participant share how the LifeStream and Agape virtual reminiscing program helped her cut down on smoking because it gave her something to do. She attributed smoking less to not feeling so bored.
Through LifeStream's partnership with Agape Therapeutic Riding and iN2L, they have documented a notable decrease in participant loneliness levels. One participant lowered her loneliness score from a baseline of 8 to a 6 after completing the 8-week program. Being able to bring the stables to seniors through iN2L tablets is an amazing example of how technology can connect seniors with a wider and more colorful world.
---
Thank You for Your Dedication to Enhancing Communication and Building Connections!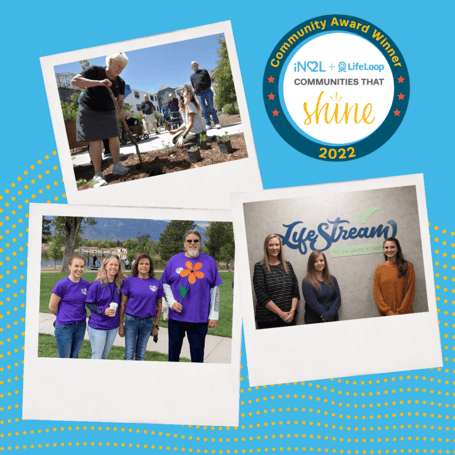 These three communities shine because they understand that providing seniors with technology enables them to stay connected with their loved ones and the ever-changing world around them. Balfour Louisville Campus, Jackson Creek Senior Living, and LifeStream Services understand that seniors deserve comprehensive care, which includes fostering new skills, passions, and connections. Instead of limiting opportunities as individuals age, these communities strive to open doors and create an environment that encourages growth and exploration through comprehensive care powered by technology.
LifeLoop's senior living software was designed to enhance the resident experience at all levels of care, from independent living to assisted living, to memory care and everything in between. To learn more about the LifeLoop platform, check out our blog.