With the current CMS guidelines in place, many residents may be unable to go home for the holidays or experience the hustle and bustle of in-person visits with family and friends that make the season bright. For that reason, your residents' families are looking for ways to make their loved one's Thanksgiving, Christmas, or Hanukkah special; and they may reach out to ask, "What's the best tablet for seniors?" Be sure to tell them about the iN2L tablet, a sturdy, 10-inch senior-friendly device that's WiFi-enabled.
The iN2L tablet makes it easy for residents to access apps and other content via a familiar, senior-friendly interface. That means there won't be a steep learning curve or staff intervention to get started—and keep going. Here are three key reasons this tablet is the gift residents and their families need right now.
1. The iN2L Tablet Keeps Residents and Their Families Connected
Now more than ever, it's critical to keep older adults connected to the people and experiences that matter to them most. While video conferencing tools like Zoom or Google Hangouts bring families together, many seniors are left out because they can't manage the complex interface of these apps.
iN2L provides a hassle-free user experience for seniors. When seniors unbox their personal iN2L tablet, they gain a safe, easy way to connect to the world around them. The tablet, which comes with a protective case, is comfortable to hold for those with dexterity challenges. Plus, it features large "app" or content buttons that are easy to see and touch. Seniors who are not tech-savvy need not worry. The tablet's picture-based interface with descriptive words and cues guides them as soon as they turn on the device. If residents want to catch up with family, all it takes is a simple tap on the tablet's touch screen to "visit" with loved ones. They can video call up to seven people simultaneously in one session.
Families don't have to worry about their elder feeling lonely, especially during the holidays. The iN2L tablet offers an easy way to virtually include residents in festive family gatherings, whether it's Thanksgiving or Christmas dinner or a grandchild's birthday.
2. The iN2L Tablet Offers True Personalization to Delight Seniors Every Day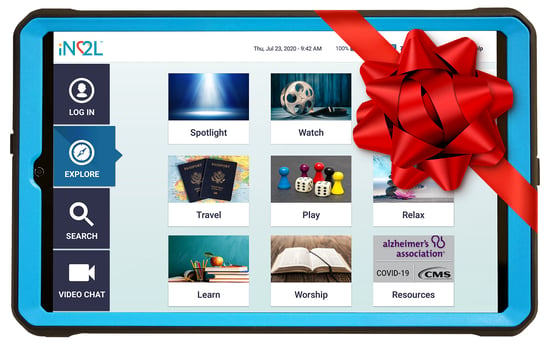 It can be frustrating for residents to navigate popular devices like the iPad or Kindle, which are not custom-made for older adults, many of whom are not very familiar with tablet technology. Keeping pace with constant updates and interface modifications often prevents them from fully enjoying their device. That's why the iN2L tablet comes with tech support and provides a consistent, personalized experience designed specifically for older adults.
Residents can navigate the iN2L tablet independently. Their launchpad is the iN2L homepage, which bookmarks the resident's favorite things in one place to offer a uniquely personal digital experience.
On the homepage, residents can easily find their phone book of family and friends to call with video chat. They can quickly access their favorite activities and content in one convenient place. This is also where residents go to enjoy photos and text messages of love and support that family members can share from their smartphones directly to the tablet. Residents will have these personal memories at their fingertips, ensuring they never miss a special moment, and they can also send text message responses.
The personalization features of the iN2L tablet will bring seniors comfort and joy this holiday season—just when they need them the most.
3. The iN2L Tablet Empowers Residents to Pursue Their Interests and Stay Healthy
The iN2L tablet supports better health outcomes by giving elders access to self-directed activities that bring purpose and meaning to their lives. This is important because 22% to 42% of older adults in care homes are considered socially isolated. By enabling purpose-driven engagement and social connections, the simple and secure iN2L tablet helps seniors reduce the likelihood that they will suffer the negative health impacts of loneliness and isolation, which can include cognitive decline, elevated blood pressure, and strokes.
When residents have their own devices, they have the freedom to safely engage in activities that interest them, whether it's enjoying an armchair travel experience, playing Solitaire, or feeding their spirit with religious content and services. The iN2L tablet is preloaded with over 1,000 pieces of interactive content specifically designed and curated for older adults. Games, puzzles, movies, audiobooks, and more are strategically selected to support the cognitive, emotional, social, physical, and spiritual aspects of overall wellness. This content is refreshed regularly, so there's always something new for seniors to enjoy.
Additionally, when your community must maintain precautionary isolation measures, including having residents remain in their own rooms, families can have greater peace of mind knowing that their loved one will remain engaged, entertained, and empowered to easily connect with their interests and the people they care about.
Plus, the iN2L tablet can be used for telehealth visits during the ongoing pandemic. Family members can also attend these appointments via video chat, so that they no longer need to follow up with busy physicians and other health care providers for information about their elder.
From keeping seniors connected to loved ones and engaged in meaningful activities, to enabling them to stay on track with doctor visits, the iN2L tablet has the features that make it the must-have gift of the season.
Help Families Give Seniors the Fun and Possibilities of the iN2L Tablet
When families express an interest in purchasing the best tablet for seniors, don't point them to the big-box store—send them to iN2L, the leading provider of person-centered content and engagement technology to the senior living market.