The pandemic-era travel restrictions left us longing for adventure. It's safe to say, we were all left feeling some form of the no-travel blues. We longed for the excitement of soaking in new locations, connecting with new cultures and people, and experiencing the sweet escape from the everyday routine. Susan Black, the imaginative founder and CEO of Wowzitude, intimately understood this sentiment as her mother resided in an assisted living community during those challenging and isolating times. Driven by the desire to offer her mother and other seniors a way to escape and scratch that incessant itch to travel, Black drew upon her extensive marketing expertise in the travel industry to create Wowzitude. This innovative virtual travel club immerses participants in captivating live-streamed, guided walking tours of cities across the globe, seamlessly bringing the magic of travel to their communities.
Authentic and Unique Virtual Travel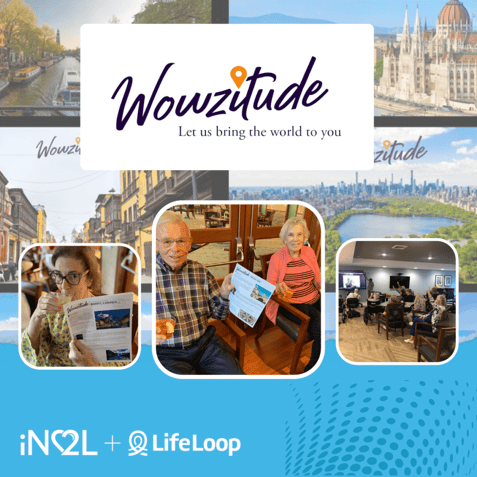 Wowzitude, now available on LifeLoop, was designed specifically for senior living communities, with the wanderlust senior in mind. Led by professional tour guides who are local to the destination, each Wowzitude tour is live-streamed, unscripted, and unedited, making every tour a truly unique and authentic experience. Travelers can engage in stimulating conversations with their tour moderator using the 2-way chat feature, enriching their understanding of each destination, immersing themselves in insightful conversation, and making them feel as if they were there.
Each week with Wowzitude, residents eagerly anticipate their 1-hour tour spanning a new diverse region across the globe. Communities can dive into upcoming tour destinations by accessing Wowzitude's travel kits. These meticulously curated travel kits include resources such as local recipes, music, thematic snacks that can be pre-ordered, maps, drinks, and book/movie recommendations to promote learning and exploration beyond the tour. Incorporating these travel kits into community activities ensures residents are truly transported to the farthest corners of the world from the comfort of their own community.
Armchair Travel Offers a Myriad of Benefits
Virtual travel opportunities not only offer life-long learners stimulating and inspiring content to engage with, but they also spark cherished memories. Black, who moderates Wowzitude tours for communities herself, highlights the excitement among residents as they embark on their weekly adventures, revisiting places they visited previously in their life or fulfilling a life-long desire of seeing somewhere they always wanted to visit. Wowzitude moderators, who appear on a live video feed, act as a liaison between the communities and their tour guides. They foster a sense of camaraderie by building relationships with the communities, warmly welcoming them to every tour, and initiating conversations that ignite engagement and reminiscing. They begin every adventure by asking residents questions such as, "Who has visited this location before?" or "How are you enjoying your traditional Mexican hot chocolates?" Their goal is to spark conversation and encourage active engagement among residents with each other and the tour guide. The ultimate goal of Wowzitude moderators is to facilitate dialogue, encourage active participation, and trigger authentic conversations that combat feelings of isolation and inspire residents to converse about positive memories and experiences. As Black shares, "Wowzitude moderators and tour guides are there to both mitigate social isolation and to get people excited and inspired to travel to new locations every week."
"Together, LifeLoop and Wowzitude are innovating engagement programs in senior communities across the map, turning every moment into an opportunity for learning, connection, exploration, and escape."

Navin Gupta

CEO at LifeLoop
Immersive Activity Programs with LifeLoop and Wowzitude
Wowzitude's thoughtful tour programming also ensures that virtual travelers get to experience the seasonal highlights of various destinations throughout the year. In the winter, virtual travelers may get to visit the magical German Christmas markets, while summer months may be spent touring national parks that spark nostalgic memories of cherished summer vacations gone by. With such intentional and varied programming, Wowzitude on LifeLoop will quickly become an activity director's best friend.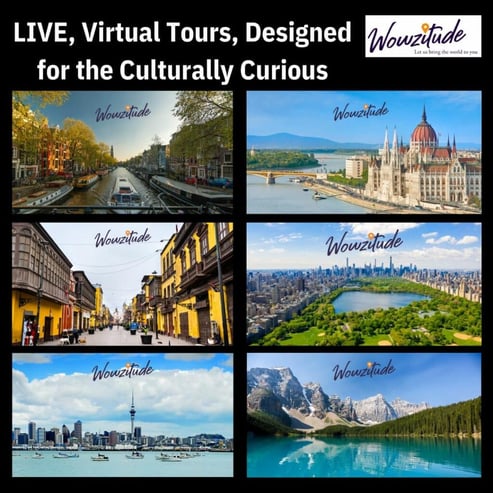 This exciting new partnership between LifeLoop and Wowzitude empowers communities to create captivating and memorable experiences for residents using one seamless platform.
Communities can now easily curate week-long thematic activities that enable residents to fully immerse themselves in the captivating world around them while building stronger relationships within the community. By combining the Wowzitude tours and travel kits with LifeLoop content, the engagement possibilities are endless!
Affirming this powerful partnership, Navin Gupta, CEO of iN2L + LifeLoop, shares, "From fascinating live-streamed virtual international travel and streaming fitness classes to therapeutic music and scholarly lectures from top-tier universities, we are delivering on our promise to create meaningful experiences for older adults and seamlessly connect residents to the amazing world around them. Together, LifeLoop and Wowzitude are innovating engagement programs in senior communities across the map, turning every moment into an opportunity for learning, connection, exploration, and escape."