2-Part Blog Series
Part 1: Increase the Quality of Care in Your Senior Living Community with Purposeful Engagement
The words "life enrichment program" are notorious for evoking a picture of disengaged residents passively following a schedule of standardized staff-directed activities. Rather than enriching the lives of residents, this type of approach has proven to make residents feel isolated, unseen, unchallenged, uninspired, and without a strong sense of purpose. A study published in the Occupational Therapy International Journal found the number one participation barrier for seniors who participated in the study was "No Opportunity." "No Interest" came in at a close second. The biggest participation barrier for social activities was "No One to Do It With." Keeping residents actively engaged in senior living communities requires activity programs that promote purposeful engagement within an environment that is rich with opportunities and social interactions. In the first part of this two-blog series, we take a deep dive into how reframing your community's engagement framework around purposeful engagement can increase resident satisfaction and well-being.
What is Purposeful Engagement, Anyway?
Purposeful engagement is a person-centered approach in which residents are organically engaged with their activities and communities. Purposeful engagement moves away from standardized enrichment activities and focuses on providing residents with an environment that encourages self-directed activities and clubs. This framework allows residents to engage with their community through their individual experiences, skills, and life journey, which amplifies their self-esteem and feelings of self-worth.
Why is Purposeful Engagement Important?
According to the Ryff Scales of Psychological Well-Being, which focuses on measuring multiple dimensions of psychological well-being, "purpose in life" has a big impact on one's overall mental well-being. As we age, the average human experiences a steep decline in purpose and growth. Findings from research conducted with the Rush Memory and Aging Project showed that those with higher levels of purpose in life were more likely to be alive 6 years later compared to those with lower levels of purpose. The same study also concluded that those with a higher purpose in life showed a reduced risk for Alzheimer's disease and mild cognitive impairment. Simply put, when residents participate in day-to-day activities that are personally meaningful and fill them with a sense of purpose, they are happier and healthier!
Definitions of Theory-Guided Dimensions of Well-Being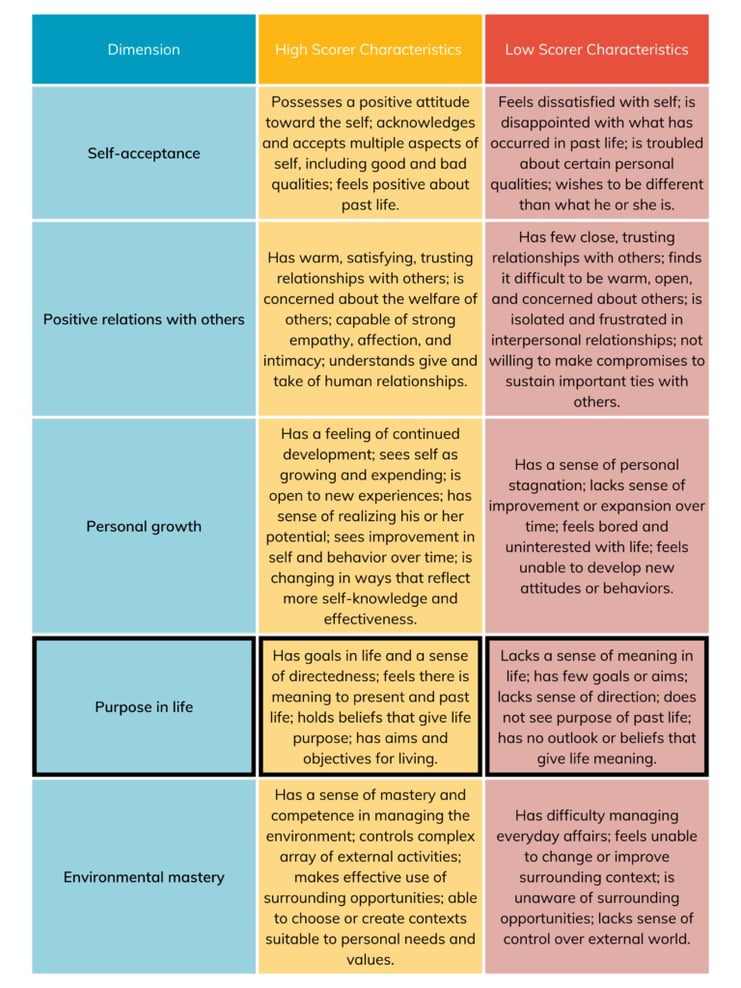 What Does Purposeful Engagement Look Like?
Purposeful engagement is all about letting the residents' interests and life-long skills lead their day-to-day activities and interactions with the world. Purposeful engagement allows residents to exercise their independence and freedom of choice. For example, the next time you are planning a group exercise class, let a resident aid in creating the playlist or ask a resident with a passion for dance to lead a dance class. Purposeful engagement not only gives residents a sense of purpose and pride but has also been proven to enhance their quality of life. A study published in Current Behavioral Neuroscience Reports found that purposeful engagement extends life, reduces the risk of multiple disease outcomes, including cognitive impairment, and promotes preventive health behaviors. Purposeful engagement acts as a catalyst for building camaraderie and a sense of community. Research conducted on senior living social environments found that building community provides residents with social contact and a network of support, both of which are paramount to enhancing well-being (i.e., life satisfaction, perception of the senior housing community feeling like home), and quality of life.
Let your residents' interests, strengths, social styles, and experiences inspire daily activities. Consider the following:
Allow residents to create and lead their own activities
Facilitate connections among residents based on shared interests
Inspire your staff members to be actively involved in clubs and groups
Encourage the formation of smaller clubs based on interests so residents, and staff, have an opportunity to share their skills and talents with one another and create deeper bonds and friendships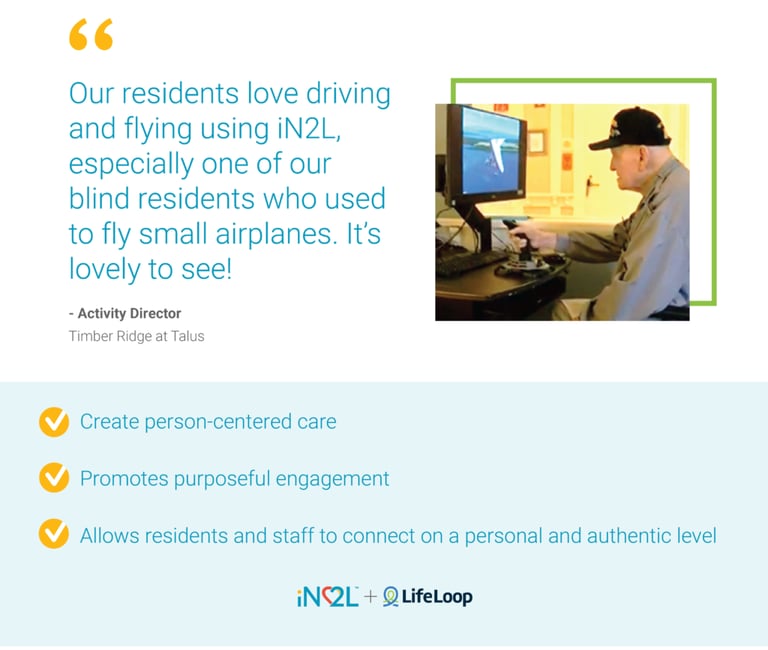 The Key to Success: Building Meaningful Relationships
The correlation between holistic wellness and purposeful engagement may seem obvious, yet according to a market study published by iN2L:
Less than three-quarters (72%) of operators say they have a method in place to keep staff informed of residents' personal interests
Only 24% of family members give top marks to the community's use of resident information to tailor and assist in picking activities and creating individualized care for their loved one
Empowering your staff to create meaningful relationships with residents is key to unlocking impactful and purposeful engagement within the community. To create purposeful engagement, staff must possess a deep understanding of each resident's preferences, needs, interests, and learning styles. Fueling purposeful engagement through meaningful relationships allows caretakers and residents to develop deeper trust and social connections. Purposeful engagement sends residents the message, "I have been seen as an individual. I know who my caretakers are, and they know me." As a result, residents gain a sense of belonging and feel more at home within their community. Nurturing these authentic connections and relationships is extraordinarily powerful and crucial to the health of your community.
Our eBook, Shaping the Future of Senior Living: Changing Your Community's Perspective on Resident Engagement, offers a deeper look into how staff can create meaningful relationships and purposeful engagement. Implementing the tactics covered in our eBook can help your community begin its engagement framework transformation. Download your copy and get started today! To learn more, check out part 2 of our blog, Engagement Technology Empowers Staff to Create Purposeful Engagement Opportunities.