2-Part Blog Series
Part 2: Engagement Technology Empowers Staff to Create Purposeful Engagement Opportunities
Purposeful engagement empowers your residents to take the wheel! Their interests, hobbies, life-long passions, and skills drive their day-to-day activities. As discussed in part one of this two-part blog series, Increase the Quality of Care in Your Senior Living Community with Purposeful Engagement, purposeful engagement provides residents with just that, engagement that gives them a purpose. Fostering an environment that promotes purposeful engagement within your senior living community greatly increases the quality of care your residents receive. Research shows that purposeful engagement reduces the risk of disease and extends length of life.
While the benefits of purposeful engagement are extremely attractive, the journey to transforming your community's perspective on engagement can seem daunting. With staffing shortages plaguing the nation, this transformation may even seem impossible. How can staff possibly find enough time, support, and content to purposefully engage every single resident while juggling their other day-to-day tasks? The answer? Engagement technology, of course!
Engagement technology is a powerful tool that helps carry your staff's workload. It provides staff with the support and resources needed to efficiently implement a successful purposeful engagement framework. The Path to Purposeful Engagement, states that engagement technology provides an effortless way to customize the resident experience at the individual level, making it seamless for staff and eliminating preparation, research, and content curation. This technology can offer any staff member or resident instant access to the content they need to fuel their interest-based groups.
Here are three ways that engagement technology can help your community build a new framework for resident engagement anchored in purposeful engagement:
1. Resident Tracking Made Easy!
To build programs and connections that promote purposeful engagement, staff need to gather information on residents' backgrounds, preferences, and hobbies. Resident profiles are an easy and efficient way to accurately track resident information. iN2L + LifeLoop's resident portal allows staff to create resident profiles that house resident information, pictures, interests, favorite content, and family contact information. Staff can record electronic notes that are visible to both care teams and family members, which focuses and facilitates care planning around a resident's specific needs and keeps everyone up to date. No more relying on notes or outdated paperwork!

2. Building Connections Based on Common Interests
Many innovative communities across the nation are adopting the Club Model, an approach that encourages club or small group development based on common resident interests and experiences. The resident profiles within the iN2L + LifeLoop systems enable social connections based on common interests. Staff can search content topics and access a list of residents who share a common interest in the topic. Resident profiles will even suggest neighbor matches to residents based on common interests. These smart matching engagement technology features allow staff and residents to easily form small groups and clubs based on common interests. Facilitating connections among residents based on their shared interests will help provide purposeful engagement opportunities for residents.

3. Attendance Data Lets Your Staff Know What's Popular
If residents are interested in activities, they will come! In fact, with the iN2L + LifeLoop systems, residents can view daily, weekly, and monthly activities and register for activities that peak their interests. Through the system, staff will receive activity attendance data. This type of data allows staff to tailor programs that residents care about which in turn increases resident engagement, attendance, and satisfaction.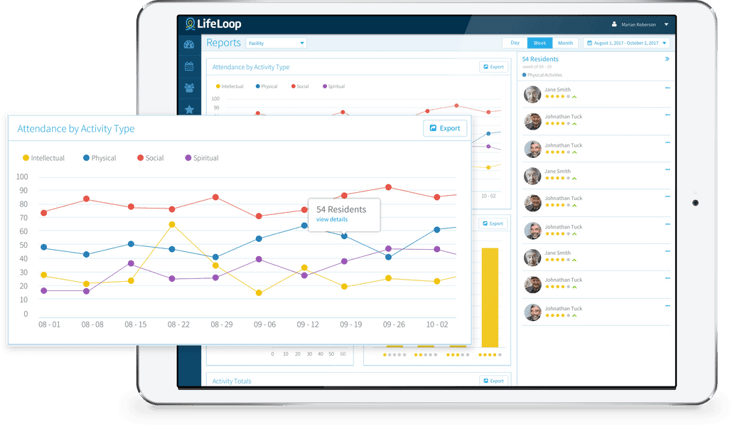 Unlocking High Social Capital
As cited in our eBook, social capital is the networks, attitudes, and norms promoting coordination and collaboration between people; and the social connections that provide people with emotional, instrumental, and informational support. Social capital within assisted living communities can be measured through levels of trust, social networks, community, and engagement. The infographic below, featured in our eBook, is a great educational aid to share with your community's staff when teaching them about the importance of creating purposeful and impactful resident engagement to increase social capital.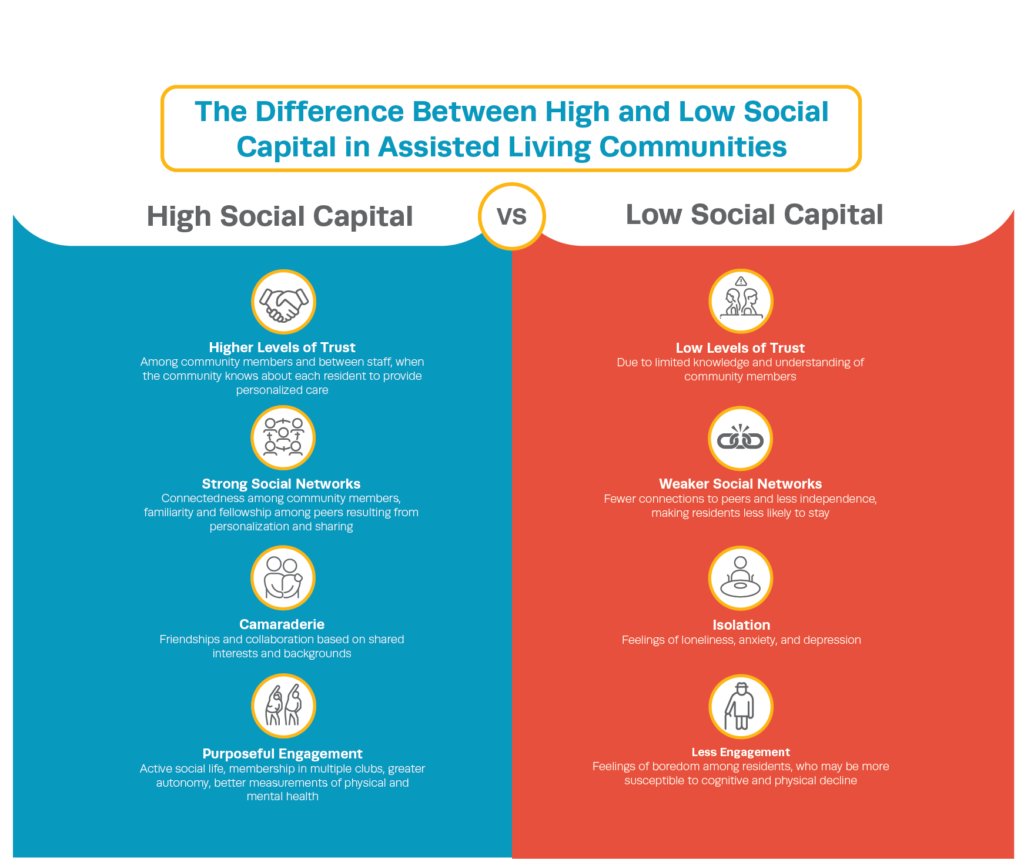 Positive Change: Not Easy, but Always Worth It
Changing your community's perspective on resident engagement will not be easy. It will require patience, collection of data, and a streamlined communication strategy. Consider investing in engagement technology to support your community on its journey towards an innovative person-centered engagement framework.
The best way to get your staff to buy into purposeful engagement is to teach them about the benefits behind it. Our eBook, Shaping the Future of Senior Living: Changing Your Community's Perspective on Resident Engagement, is a great resource to get your staff inspired. Start a book club and have them conduct their own research. Make the engagement…purposeful!