Imagine the joy a resident and lifelong history teacher would feel watching the lecture 'Abraham Lincoln: Fact vs. Fiction' from the comfort of their room. Picture an art appreciation club filled with lively group discussions sparked by educational talks led by some of the nation's leading professors. With One Day University, now available on LifeLoop, these experiences and more are but a click away, waiting to inspire and engage residents in exciting new ways.
One Day University is a Learning Hub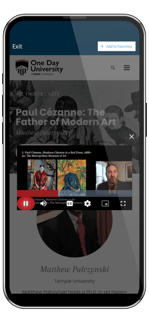 One Day University is a learning program built to educate, inspire, and entertain lifelong learners of all ages. Their website hosts over 700 video lectures led by top professors and experts in various fields and hailing from over 150 schools across the nation. Viewers can choose talks about History, Art, Science, Politics, Health & Wellness, and much more. Each professor is thoroughly vetted for their credentials and engaging style. For over 12 years, One Day University has mastered infusing the perfect blend of education and entertainment into every talk. Rather than expecting a traditional lecture that is solely informative, viewers can anticipate a captivating and enjoyable experience. By employing techniques such as storytelling, humor, and multimedia, skilled speakers bring their lectures to life, leaving viewers not only educated but also thoroughly engaged and entertained.
Lifelong Learning for Older Adults
As older adults transition away from the daily responsibilities that occupied much of their time, it's important for them to find meaningful activities that bring a sense of motivation and purpose. A recent study revealed that 42% of adults ages 45 and older identify as a "lifelong learner," while many more say they intend to engage in learning as they age. This adds up to more than 92 million people spending an estimated $6.9 billion annually in the lifelong learning market. By incorporating One Day University into LifeLoop's multi-functioning senior living platform, there is potential for significant profit as more and more older adults seek out lifelong learning opportunities that promote meaningful engagement and connections.
Seeking to sharpen their cognitive skills is part of a broader mission that many seniors have in achieving a more holistic and well-rounded lifestyle. With hundreds of One Day University talks to choose from, viewers are sure to find something that piques their interests or even opens the door for a new hobby and social connections.
"There's something for everybody with over 700 talks. We have found that once lifelong learners discover our content, they typically will become avid users. It's good content; it stimulates the brain and fosters conversations."

– Kevin Brennan, Managing Director at One Day University
One Day University on LifeLoop Offers a Competitive Edge
LifeLoop, a cloud-based senior living software, is excited to welcome One Day University to its multi-feature platform. With the addition of One Day University's dynamic lectures, coupled with over 6,000 pieces of iN2L content available in the LifeLoop library, senior living communities can create dynamic and diverse programming that engages residents at all levels of care and sets them apart from competitors. Each week, One Day University features five lectures centered around a specific theme. For instance, a theme could focus on 'paintings,' featuring lectures such as 'The Remarkable Genius of Picasso' and '5 Paintings Every Art Lover Should See.' Activity directors could leverage these featured themes, in addition to iN2L content like 'Wow Art,' to host group clubs, facilitate engaging discussions, and promote fun projects that span a week's worth of thematic engagement. In fact, Brennan shares how one community hosted an Impressionist week based on a lecture they watched and ended up creating meals inspired by Matisse's paintings.

Technology: A Window to the World
While many seniors may have approached technology with trepidation and a closed mind in the past, that narrative is quickly changing. Technology no longer needs to hinder and frustrate seniors. Instead, it can open new windows that allow them to connect with the world around them. LifeLoop is proud to welcome One Day University to its platform. Together, we seek to make technology accessible to seniors.