Caregiver Burnout is REAL!
Caregiver burnout is on the rise and affects everyone. Read this latest blog to learn the signs of burnout and how to combat it!
Burnout is our hot topic this month! Caregiver burnout is NO JOKE, so let's discuss what burnout is, how it can affect us, and how to try and avoid it! Burnout is a major issue in the caregiver community. With senior living staff turnover rates at an all-time high, professional caregivers are feeling the pressure and fatigue more than ever. The pandemic has created hurdles that impede senior living communities' abilities to maintain reliable staff, leaving many amazing, but exhausted, caregivers left to pick up the slack. Those of you who are working in a senior living community, adult day care, home health, hospice, etc., are saving our seniors. LITERALLY! Unfortunately, burnout often pushes incredible professional caregivers to leave the business. I regularly hear people say burnout goes hand-in-hand with caregiving. But if we have the right coping skills and education, we can prevent this from happening. Unlike other professions, this work is draining, regardless of whether you are getting paid to do it or not. Caregiving is physically, mentally, and emotionally taxing! I want to give you the resources and support you need, and deserve, to prevent burnout from occurring.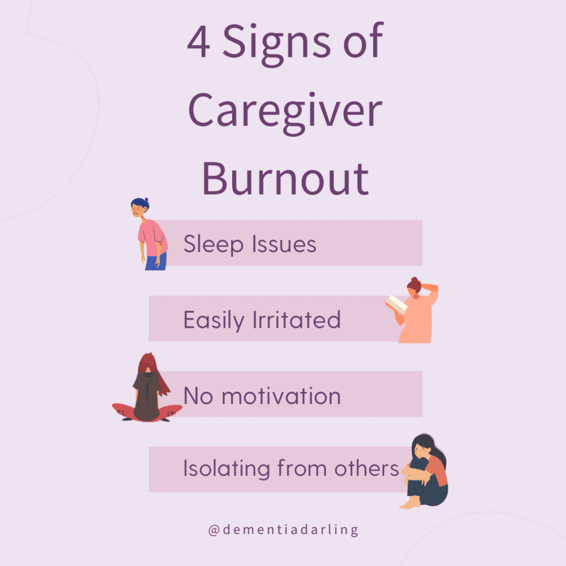 What is Burnout?
According to Aging in Place, burnout is the state of physical, mental, and emotional exhaustion. When we start to become easily agitated or on edge, that often tells us that burnout is on the horizon. Some of the common burnout signs include withdrawal from doing things we love, changes in sleep and eating habits, difficulty concentrating, losing control of emotions, and many more! These symptoms can negatively impact our day at work and spill into our personal lives. It's important to be aware of these types of symptoms and how burnout can show up in your life. Depression and burnout have many overlapping symptoms. If your burnout does not subside after utilizing coping skills, talk to your primary care physician or mental health therapist about your ongoing symptoms. It is okay to ask for help. After all, how can you show up for others if you cannot show up for yourself? Self-care is not only encouraged, but also necessary!
Compassion Fatigue
Compassion fatigue is another common form of burnout in caregiving. This refers to a strain on our emotions from being in a stressful and sometimes upsetting environment for a long period, such as caregiving. The pandemic exasperated compassion fatigue by adding the challenge of isolation on top of normal caregiving stresses.
Preventing and Navigating Burnout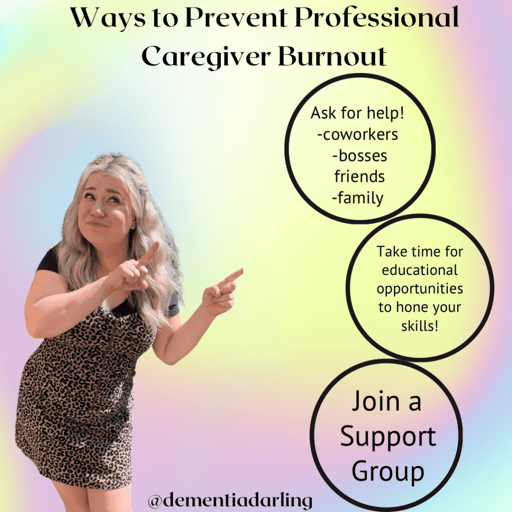 So often caregivers ignore their own well-being, which quickly leads to burnout. It is incredibly important to be in tune with yourself and your needs. Taking care of our own needs is a large part of preventing burnout. Self-care is essential to preventing and coping with burnout! Self-care doesn't only mean facials and bubble baths. Self-care is going to your doctor for regular checkups, getting restful sleep, eating mindfully, socializing, and more. Some of my favorite self-care activities are breathing exercises, getting outside, keeping my medications filled, seeing my doctor regularly, being kind to myself, and spending time with my dog. These are just some of the ways that I practice self-care to prevent burnout from arising. Adding activities into your life that can support your happiness plays a tremendous role in practicing self-care. For example, calling a friend who makes you laugh, taking a dance break in the middle of the day, cooking yourself a nice meal, adding aromatherapy to your evening routine, etc. These simple additions to our daily life that can help keep us focused on what we are grateful for and the simple joys in life.
Keep in mind that the self-care you NEED may change with the season of life you are in. Sometimes to fill your cup, you may need a night out with friends, while other times you may need a quiet weekend alone. Whatever your body and mind are telling you it needs, you must be sure to listen!
---
Caregiver Resources
Need more tips on how to begin your self-care journey? Here are some great resources to get you started!
iN2L Favorites for Relaxation 😊
Relax–>Guided Meditation
Relax–>Time Lapse–>Blooming Flowers
Relax–>Breathe
Listen–>Therapeutic Music–>Set the Scene–>Soundscapes
Play–>Creative Arts–>Paint By Number
Learn–>Art–>Wow Art
Watch–>Webcams–>Animals
Dear Dementia Darling
Do you have any questions for me? I want to invite you to reach out to me here or at dementiadarling@iN2L.com with any questions you have about caregiving, iN2L + LifeLoop, dementia, and more! I will answer them through videos that you can access through our systems and on social media (@dementiadarling). Your questions can help other caregivers on their caregiving journey. Let's support each other. I look forward to answering your questions! 😊