Music and spirituality have a rare power to forge connections that link our past, present, and future—a power that becomes increasingly important as we age. As we get older, music and spirituality become indispensable tools that allow us to cultivate connections, both new and old, within ourselves and with others. That's why LifeLoop is proud to offer Coro Health, a digital therapeutics company that specializes in curating clinically proven music and spiritual support content tailored for senior living environments.
Diversional Programming on LifeLoop
To promote a holistic and person-centered approach to managing agitation, anxiety, and delirium among residents, many communities are moving towards more natural remedies, such as diversional programming. This type of programming provides residents with engaging and purposeful activities that help stop, change, or modify challenging behaviors. Coro Health is a leader in this area, offering expertly curated music and faith-based content programs that act as effective forms of diversional programming.
Coro Health's MusicFirst and FaithFirst programs, now available on LifeLoop, empower caregivers and residents to use personalized therapeutic music and spiritual content before resorting to traditional medical interventions, improving the overall health and quality of life of residents. The program names also reflect their philosophy of care to use music and faith FIRST, before traditional medical interventions, to improve health outcomes.
Coro Health's MusicFirst
We all have experienced the therapeutic effects of music. Maybe you listen to music to get you through the stressors of morning commutes, or perhaps you listen to relaxing music to help soothe you to sleep. This is the basis of Coro Health's MusicFirst program, except it's backed by peer-reviewed research and scientific strategy. Coro Health's MusicFirst library is comprised of outcome-driven programs that can be used in group settings or tailored to an individual's therapeutic needs. Each program consists of a series of songs that have been strategically sequenced using a patented Music Prescription Builder™ (MPB) created by a team of music therapists, music designers, and neuroscientists. This means that each playlist, or program, is carefully designed to achieve a specific goal, such as boosting energy levels for the day or aiding relaxation after a stressful event. The MPB analyzes various musical characteristics, including tempo, instrumentation, brightness, texture, and key, to strategically sequence a series of songs for maximum resident impact.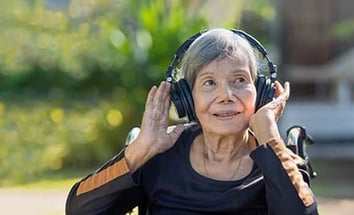 MusicFirst is free of commercials and utilizes a song analyzer to customize a music program based on the listener's preferences, background, and medical conditions. This is done to prevent any unforeseen triggers that may cause residents stress or confusion. Even the most seemingly innocent media content can cause agitation. Debi Cost, Head of Training and Licensing for Coro Health, recalls an incident in a memory care community where a fishing commercial triggered a resident's agitation. She recounts, "I saw a sweet man become super agitated because the commercial was about a fishing boat. He started to get confused because he remembered, 'I have a fishing boat. Why am I here?'"
The ability for healthcare providers to seamlessly deliver person-centered music and spiritual support is no longer a 'nice to have.' There is overwhelming evidence that these tools accelerate recovery and improve wellness.

– Anna, Chief Purpose Officer
Music Programs for Every Occasion
MusicFirst offers programs designed for both individual and group use. Caregivers can lean on a music program to help boost energy and lift spirits during breakfast time or aid relaxation at night with a personalized bedtime routine. They even have programs specifically for sundowning, making it a great tool for memory care communities. They also offer a few entertainment options such as Sing-along for some karaoke fun and CARE Radio, which provides access to over 50 commercial- and DJ-free radio stations. CARE Radio features music programming tailored to each part of the day. In the morning, listeners will experience more energized music to promote an upward energy slope, while mid-day music promotes a level energy slope, and evening stations help listeners wind down with a downward-energy slope.
Coro Health's FaithFirst
Spiritual support is essential to senior well-being, and yet a 2020 study found that residents, families, and physicians all highlighted a lack of spiritual support as a major barrier to optimal treatment in long-term care communities. That's why LifeLoop is incredibly excited to offer Coro Health's FaithFirst program on our platform. FaithFirst is an extensive multi-faith audio and video library designed to foster well-being and connectivity in senior living communities.

FaithFirst provides an extensive range of spiritual and religious audio and video programs that bridges the critical care gap and meets individuals where they are with a library of on-demand programming to help navigate life's most difficult questions and most meaningful moments. FaithFirst is curated content that focuses on four well-researched pillars: Spiritual Practices, Wisdom Council, Faith Traditions, and Health Care Issues across seven communities of faith: Buddhism, Catholicism, Christianity, General Spirituality, Islam, Judaism, and Native American.
FaithFirst content is created under the guidance of a knowledgeable Wisdom Council, consisting of experts in various fields and spiritual traditions. The content is curated to the healthcare needs of residents, focusing on their traditions and utilizing spiritual practices. FaithFirst on LifeLoop offers residents, families, and caregivers access to powerful interactive individual and group engagement content that promotes spiritual, emotional, and social well-being. The 'Bible Studies' program, for example, is designed to lead viewers through guided Bible studies with questions to facilitate group participation, regardless of their background knowledge. With FaithFirst, communities can provide residents with a wide array of spiritual activities such as Bible clubs, meditation circles, or musical worship groups.
Celebrating Diversity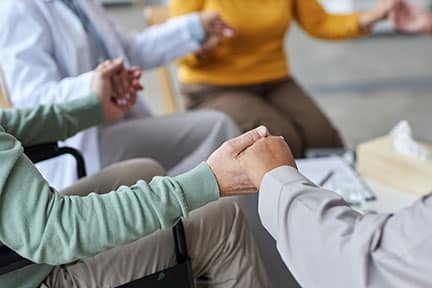 Coro Health's therapeutic programming provides senior living communities with an appealing differentiator that celebrates the unique cultures, traditions, and stories of their residents through organic and holistic programming. This people-first approach encourages residents to move through their day with energy, joy, and peace. MusicFirst and FaithFirst programs promote personalized care that reduces isolation and distress while fostering meaningful connections among residents. We are delighted to announce that Coro Health's therapeutic programming is now available on LifeLoop's senior living software platform. Together, we can provide communities with this necessary tool that empowers residents to honor their diversity and promote inner peace and calm, creating a truly exceptional senior living experience.