We are thrilled to introduce Paige Mantel, our new Chief Marketing Officer (CMO) at iN2L + LifeLoop. With over 20 years of marketing leadership experience and a passion for leveraging technology to make a difference in people's lives, Paige brings a fresh perspective to our mission of bringing purpose, passion, and joy to the lives of seniors. We are excited to share her journey and delve into her vision for elevating the iN2L + LifeLoop brand to new heights.
Paige, tell us about your education and the career journey that has brought you to iN2L + LifeLoop.
I grew up in the central valley of California and pursued a broad liberal arts degree encompassing sociology, mathematics, history, and science at the University of California, Davis. Throughout my time there, I held three jobs: advanced math tutor, coffeehouse barista, and intern at a biotech research and development company. It was during my internship that I developed a strong interest in pursuing an MBA and a career in marketing.
After graduating, I joined a wireless carrier, now known as AT&T, in the San Francisco Bay Area. It was here that I received the greatest gift of my career; a female CEO who became my mentor. When she learned of my career goals in marketing, she said, "Paige, to be a great marketer, you need to understand your customers." With that, she moved me into the call center to manage our specialty teams. It was an excellent educational experience. Not only did it deepen my understanding of customer needs, but it also honed my team management skills.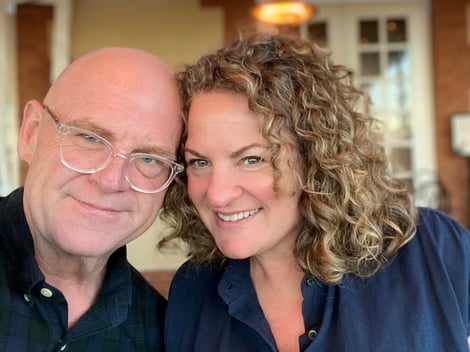 Following that, I earned my technology-focused MBA from the University of Texas, Austin, and worked as a European product marketer for a global telecom and software company in the UK. I love technology and the force with which it can powerfully impact businesses and their customers. After a decade of wearing multiple marketing hats for global companies that brought leading-edge technology solutions to the market, I had a great epiphany – if technology can significantly impact industries such as retail, banking, automotive, and telecom, why aren't we better harnessing its power to improve people's lives? That's when I shifted my focus to bringing innovative technology to healthcare.
As I embarked on my new mission, to bring advanced technology to the healthcare industry, my first endeavor was creating and leading the healthcare division for a mobile engagement SaaS business. My first customer, Mayo Clinic, gave me incredible insight into the healthcare system and the impact of patient engagement. In fact, our solution for Mayo Clinic was to empower patients to actively engage and participate in their procedures and treatments, resulting in heightened awareness and, ultimately, leading to better health outcomes. In 2015, I sold that division to mPulse Mobile and joined them as Chief Marketing Officer. Our mission was to engage and activate patients in their care and we were very successful in growing that business through our partnerships with leading health systems and payers. Most recently, I was at a SaaS startup serving the needs of behavioral health patients, clinicians, and leaders.
My career has always been driven by my passion for learning and making a difference in people's lives. That's why when I got the call about the marketing role at iN2L + LifeLoop, my mind and heart were inspired by our vision of bringing purpose, passion, and joy to the lives of seniors.
What do you enjoy doing in your free time?
I recently moved from San Francisco to Napa to live with my fiancé, Dan. We love to travel and have been enjoying exploring the wine country by going on road trips with Samson, our Labradoodle. Samson and I are an animal-assisted therapy team, volunteering at schools, clinics, and care facilities to bring joy and laughter to those who need it the most. I love to watch people light up when Samson, seated beside them, shows off his tricks in return for affectionate pats, pets, and smiles.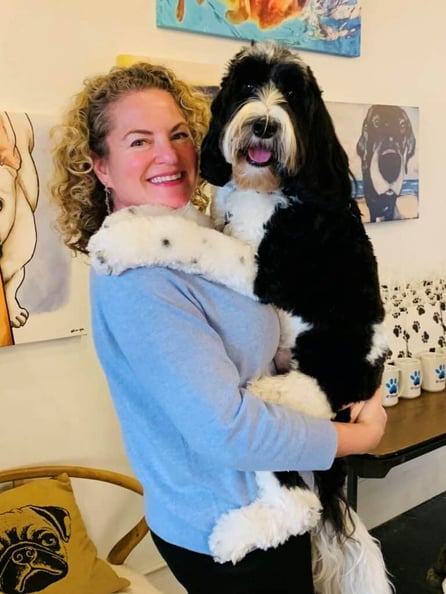 What are you most excited about in your new role as CMO for iN2L + LifeLoop?
I'm excited to work with a team of passionate, intelligent, and purpose-driven people. My conversations with Vista, Navin, and the rest of the leadership team have been truly energizing. Our technology holds tremendous potential to improve the lives of older adults and enhance the efficiency and effectiveness of the exceptional senior living facilities we partner with. I can't wait to connect with our customers, learn more about their businesses, and discover how we can help them realize their goals.
What is your mission?
My late and beloved grandmother, Irma Paster, holds a special place in my heart as my first hero. Despite the many challenges she had to overcome in her life, she radiated gratitude and joy that inspired and uplifted everyone around her. Throughout her long life, spanning 99 years, she remained actively engaged, even during her final five years at an assisted living facility. At iN2L + LifeLoop, we have the opportunity to extend my Nana's sense of fulfillment and active engagement to more seniors. By providing them with innovative technology, designed specifically for them, we can enable seniors to embrace flourishing lives filled with purpose, passion, and joy.
Our leadership team is always excited to connect with you! Be sure to follow Paige Mantel and LifeLoop on LinkedIn!