What is Resident Engagement?
When you hear someone talk about engagement in the senior living world, this could mean several things. Engagement in senior living consists of multiple facets that are unique to each person. Examples include cognitive, social, spiritual, and physical engagement, just to name a few. As caregivers, we want to make sure we focus on providing care that is anchored in subjects and content that residents feel emotionally invested in…something that sparks their interest and purposefully engages them. Purposeful engagement keeps residents feeling valuable in society and life. It is essential to focus on engaging our residents to support them in staying happy, active, and feeling seen.
There is a difference between activities and engagement! We can keep people busy with activities, but actively engaging someone is a different level of enrichment. When we engage our residents, we get them to relate to the world around them in a way that is meaningful to them. There are numerous ways that caregivers can engage with their residents or loved ones living with dementia. Studies show that when someone is actively engaged in their life, it can slow down the progression of one's decline with dementia, among other things! In fact, isolation and a lack of purposeful engagement have been linked to increasing the rate of dementia decline and decline in overall health. As an experienced dementia caregiver, I can confidently speak firsthand to the direct correlation that purposeful engagement has with decreasing negative emotions in residents living with dementia.
So where to start? As stated before, there are multiple layers to wellness and each needs to be nurtured and engaged to promote holistic wellness. Below, I share my favorite tips for purposefully engaging with people in memory care.
1-2-3-ENGAGE!
1. Utilize different types of therapies.
Incorporate residents' interests into therapy interventions to encourage active participation, such as pet therapy, art therapy, music therapy, and gardening therapy to name a few!
2. Be available and accessible to residents so that you can get to know each other.
Talk with them, consult family members, or chat with your coworkers to collect information on their life, their history, their strengths, and their likes and dislikes. When you know your residents, you can ignite meaningful interactions triggered by their interests. For example, if your resident is a retired nurse, you can ask her to assist you with making sure everyone has enough water and is hydrated or ask her to restock the First Aid kit. Or if you have someone who was a retired teacher, you can ask them to help you prep for different activities or events, have them sort your art supplies, or read to the group. You may need to adapt and modify your approach based on the person you are engaging with, so being aware of their needs and abilities is key.
3. Pair up residents with similar interests to promote connections and friendships that promote peer engagement!
Take note of residents with similar interests and create opportunities for them to meet and interact with one another. You can create groups based on common interests. Try creating a group for coloring, walking, watching a specific tv show every week, or anything that they can enjoy doing together! These opportunities will give them a chance to socialize and make new friends. Remember: It is NEVER too late to make a new best friend!
Montessori Approach for Seniors and Residents
As a certified Montessori Dementia Care Professional, I would be remiss to not mention the Montessori approach! I find this approach to be the most effective in promoting purposeful engagement because it focuses on engagement that activates a sense of purpose! As stated on the Montessori webpage, "The goal of the Montessori program is to support older adults and people living with dementia by creating a prepared environment, filled with cues and memory supports, that enables individuals to care for themselves, others, and their community. We strive to develop communities that treat individuals with respect and dignity and honor their choices so that they may live as independently as possible." This approach focuses heavily on meaningful engagement based on the person's life and interests. Montessori activities focus on a resident's remaining skills and abilities in a no-fail environment. Examples of Montessori activities include gardening and harvesting plants for the community, decorating cards for the troops, providing ESL lessons, reading to children, setting the table for a group meal, baking or cooking opportunities, and so much more! For some great inspiration, check out this resource, 15 Best Montessori Activities for Dementia!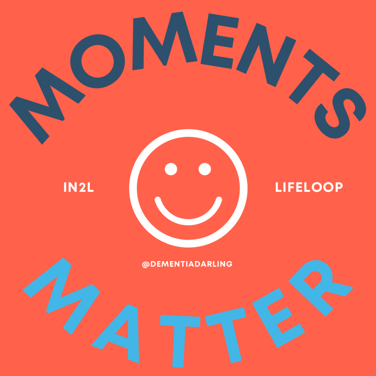 Dementia Darling Tip
A lesson that took me years to learn is not to set unrealistic expectations for yourself or your elder. Sometimes, we think as caregivers we must keep people engaged 24/7. That is not realistic for anyone and will quickly lead to burnout. I don't know about you, but I don't expect to be entertained all day, and neither do the people you are caring for. I used to think that the quantity of time mattered, but it is the quality of the time that is important here. These moments of purposeful engagement are something to celebrate.
Every moment matters. No matter how long that moment lasts with your resident or loved one, it is valuable and special. Next month we will talk about grief and how it can be extra difficult during the holiday season.
Dear Dementia Darling
Do you have any questions for me? I want to invite you to reach out to me here with any questions you have about caregiving, iN2L + LifeLoop, dementia, and more! I will answer them through videos that you can access through our systems and on social media (@dementiadarling). Your questions can help other caregivers on their caregiving journey. Let's support each other. I look forward to answering your questions! 😊
Carrie Aalberts, also known as Dementia Darling, is a certified Dementia Practitioner and Montessori Dementia Care Professional. She works with iN2L + LifeLoop as an Implementation Success Manager.