Technology and Older Americans
Technology is quickly becoming an important and integral part of older Americans' everyday lives. Four out of five people ages 50-plus say they rely on technology to stay connected and continue to adopt technology to learn new skills, stay healthy, find entertainment, manage responsibilities, or pursue a passion. The use of technology will only continue to become more prevalent as more and more generations grow up with technology. As our world continues to technologically advance, so too must senior living communities. Integrating technology into your senior living community helps your team streamline operations, build resident connections, and provide residents with the highest quality of care possible.
However, there's a lot to consider when deciding which technology solutions to implement in your senior living community. It's a big investment, not only financially, but also in the time it takes to implement and train your staff. Start by identifying technology features that could serve everyone within your community. Think of operational or organizational processes that could be streamlined to help your staff create person-centered care more efficiently. Consider surveying your staff! What processes take up too much of their time? What tasks are bogging them down? How many systems do they need to log into and for what reasons? Collecting information will help you better identify what technology solutions you need to start researching.
Next, look for a comprehensive technology solution that provides your senior living community with a wide array of features that help address your staff's needs. The following are the top three technology features we believe support staff in creating operational efficiencies that promote high-quality person-centered care.
Feature 1: Engagement Content
Engagement content should do just that, engage residents! When deciding on an engagement content solution for your senior living community, you want to make sure it provides:
A big and diverse content library specifically curated for seniors!
The ability to access content on any device. No hardware requirements!
Why?
Senior living residents vary in interests, age, and cognitive and physical abilities and needs. To meet the needs of your diverse population, which can range from independent living to memory care, you'll want to find a content solution that specializes in senior living content for all abilities.
A robust content library also supports activity directors, staff, and therapists in planning activities and interventions that promote purposeful engagement and holistic wellness programs. According to the ICAA/ProMatura Wellness National Benchmarks Report, 94% of the participating residents in independent living or independent plus assisted living properties said they are satisfied/very satisfied with their overall quality of life in the community, and 44% said that they are much more satisfied with their quality of life because of the community's wellness program.
To ensure that the content you invest money into is being fully utilized, your engagement content solution should be accessible through any smart device! Somedays, getting out of bed is just not possible for residents. Being able to stay connected with content on those days will have a tremendous impact on residents and the staff who help care for them. Accessing content on any smart device will also be a great staff pleaser! They'll surely appreciate being able to plan activities on the go, or from the comfort of their own home.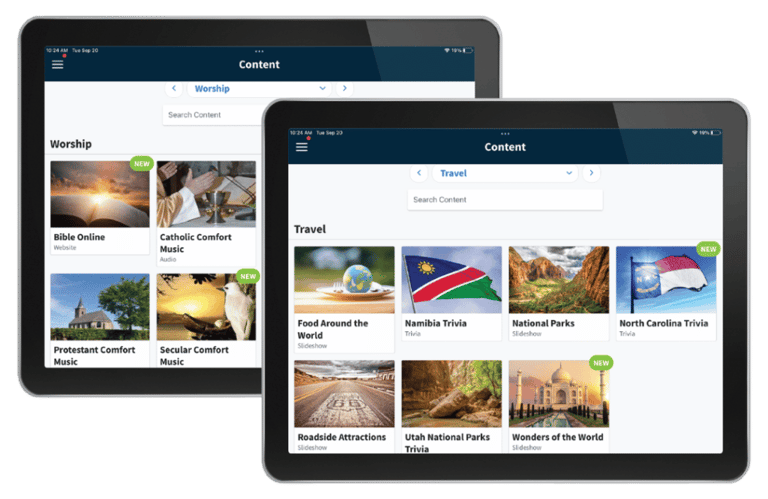 Feature 2: Communication and Connection
If the pandemic taught us anything, it's that keeping residents, staff, and families connected through secure, fast, and reliable communication is a must-have solution for all senior living communities.
Why?
As our society becomes more and more transient, a communication and connection solution empowers families and residents with the technology they need to stay connected, informed, and active in the community's day-to-day activities.
A communication and connection solution will also significantly support your staff's efficiency. Staff will spend less time sending reminders, following up on requests, and planning activities, and more time doing what they love, caring for seniors.
What features to look for to promote communication:
Residents, staff, and families can securely text, call, video call, and share pictures and other media.
Staff and families can securely communicate with one another.
What features to look for to keep your entire community informed:
Ability to easily broadcast messages to all staff, residents, and family members.
Staff can share special moments with family members by sharing reports, media, and messages.
Residents can receive reminders for events, activities, transportation requests, maintenance services, meals, and more!
Families can access the staff directory.
What features to look for to keep everyone involved in the community's day-to-day activities: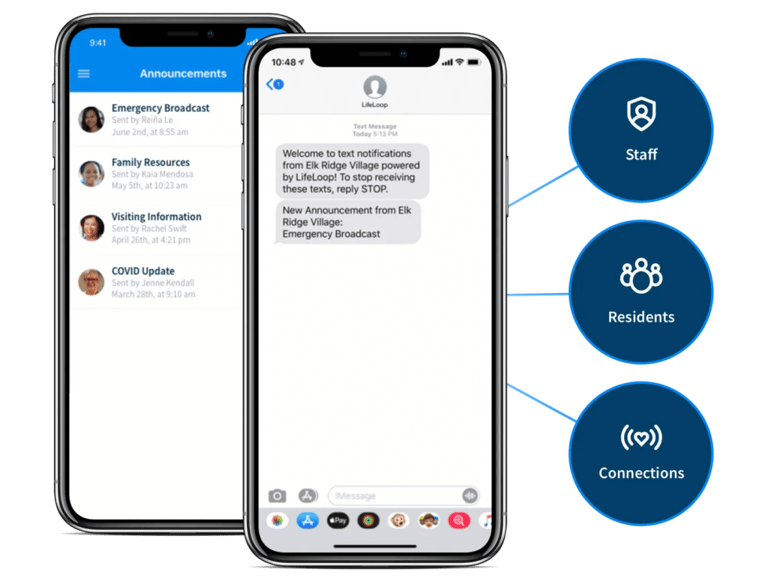 Families and residents can monitor work and transportation requests.
Families can get a real-time view of their loved one's day through pictures and data sharing.
Families can receive an automated weekly email with in-depth communication on their loved one's engagement.
Residents can register for activities they are interested in. (Bye-bye standardized activity programs and hello

purposeful engagement

!)
Residents can bookmark their favorite engagement content, such as movies, games, videos, wellness programs, and more.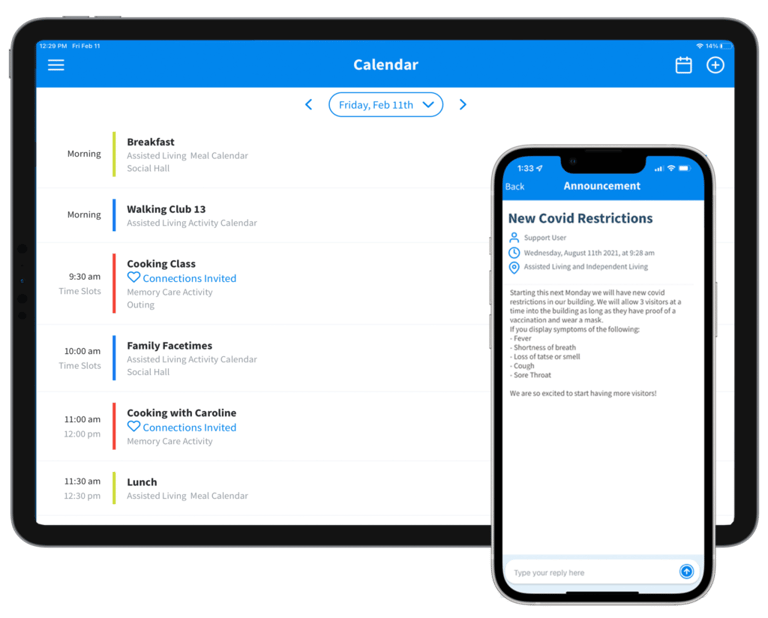 Feature 3: A Full Concierge Management System
Running a senior living community is hard work! There are a lot of things to track and manage. Finding a full concierge management system will help keep your community organized by streamlining operational processes.
Why?
Staffing shortages are wreaking havoc in the senior living industry. Short-staffed communities need technology to support staff now more than ever. A full concierge management system allows staff to access one system to manage maintenance, housekeeping, transportation, IT, and other operational systems. By consolidating all these systems into one, your staff can do more with less!
The Ultimate Solution: One Enterprise Platform for All Your Senior Living Needs
The more systems you have in place, the less likely your team will be to properly use them, and that's just money down the drain! Staff gets overwhelmed by the need to learn and log into multiple systems. That's why iN2L + LifeLoop has created the senior living industry's most comprehensive enterprise platform. We offer engagement content, communication and connection portals, and a full concierge management system all in one device-agnostic platform! Our mission is to offer senior living communities one solution to support resident engagement, family satisfaction, and staff efficiency.
To learn more about iN2L + LifeLoop's complete technology features, visit our Features Page and Engagement Technology Page and schedule a demo today!