A 3-part blog series that explores LifeLoop's communication, operations, and engagement features. Want to explore these features in more detail? Book your demo.
You've heard the name, but you may be wondering, "What is LifeLoop?" With our platform's large array of features and functionalities, it can be a lot to digest, but don't worry; we've got you! In this 3-part blog series, we will walk you through the 12 features that make up LifeLoop's communications, operations, and engagement tools.
What Is LifeLoop?
LifeLoop is a comprehensive senior living SaaS, or Software as a Service, platform designed to help you increase staff efficiency, enhance resident engagement, and improve family satisfaction. Our SaaS solution means you can access LifeLoop through web browsers and our mobile app. That's right, you can access every LifeLoop module through any tablet, smartphone, computer, or smart device of your choice! In part one of our blog series, we will showcase LifeLoop's communication features and why they matter to you.
Tools to Keep Your Community Connected
In the realm of senior living, communication and connection are crucial to building trust, promoting independence, keeping residents safe, and ensuring staff is working as efficiently as possible. LifeLoop's platform allows you and your community to facilitate timely and ongoing communications, and you can rest assured knowing all information is being quickly and securely communicated.
LifeLoop's Connection Tools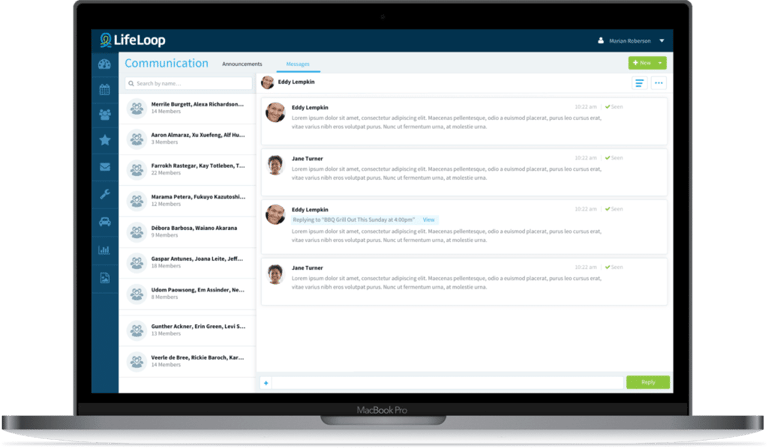 The Communication Module
What does it do?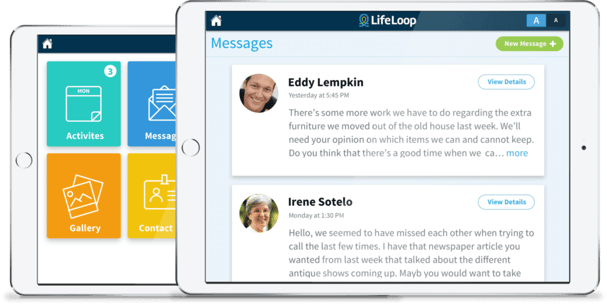 Communities can easily brand and customize communications and notifications for residents, staff, and families.
Management can securely distribute mass messages to residents, staff, and families.
Residents can text, email, and share photos back and forth with their loved ones.
Staff and families can send texts and emails to each other.
Staff can send messages securely back and forth.
Why does it matter?
When time is of the essence, communities can quickly broadcast messages during emergency situations like wildfires, pandemics, and floods.
Efficient communication tools ensure that residents and their loved ones stay connected, alleviating those toxic feelings of loneliness.
Families can be easily and actively informed of and involved with their loved one's care plan.
Staff can use one platform for all their communication needs.
Communications are safe and secure!
Communication in Action⚡
Check out how LifeLoop's Communication module helped a Colorado campus evacuate 400 residents during a fire.
On December 30, 2021, a devastating fire broke out in Louisville, Colorado. A thousand homes burned during what has been called The Marshall Fire. Thousands were forced to evacuate. Our Louisville Campus, which consists of 4 different communities, had to evacuate—this meant that 400 residents across multiple levels of care and 400 staff members needed to be evacuated in less than a five-hour span of time.

Imagine the stress and worry of our family members. Some lived locally and were themselves evacuated, adding to the stress. Some lived out of the area and likely felt helpless.

Thankfully, we have LifeLoop. With this web-based app, our leaders were able to allay all fears by sending quick and timely messages via their mobile devices. Family members received texts, emails, and calls via LifeLoop's streamlined contact management system. Communication with residents and families became one less thing to triage as our Executive Directors secured transportation, accommodations, food, and other basic needs.

In the face of adversity, our team made sure that every resident and staff member was evacuated safely.

Thank you, LifeLoop!

– Julie Nash from Balfour Louisville Campus
💡Interested in learning more about LifeLoop Communication module?
Our demo is customized around you. Get answers to your unique questions and book time for a demo.
---
Digital Signage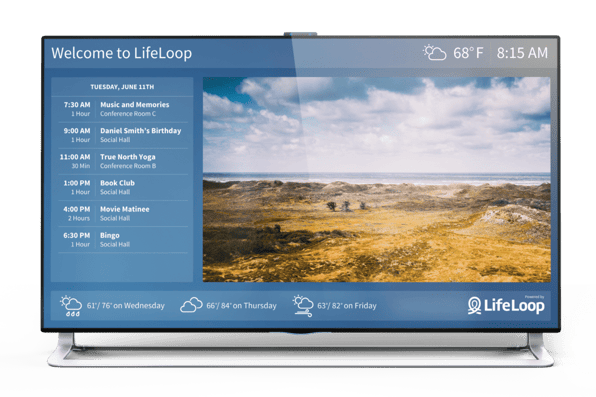 What does it do?
Communities can share content through community broadcast channels and digital displays throughout the community using an Amazon Fire TV Stick.
Staff can easily customize digital displays to share birthdays, pictures, weather, calendars, and more.
All digital displays are updated in real time. When information is updated through the LifeLoop platform, it will automatically update this information wherever it is displayed.
Communities can also embed digital signage and content on their website.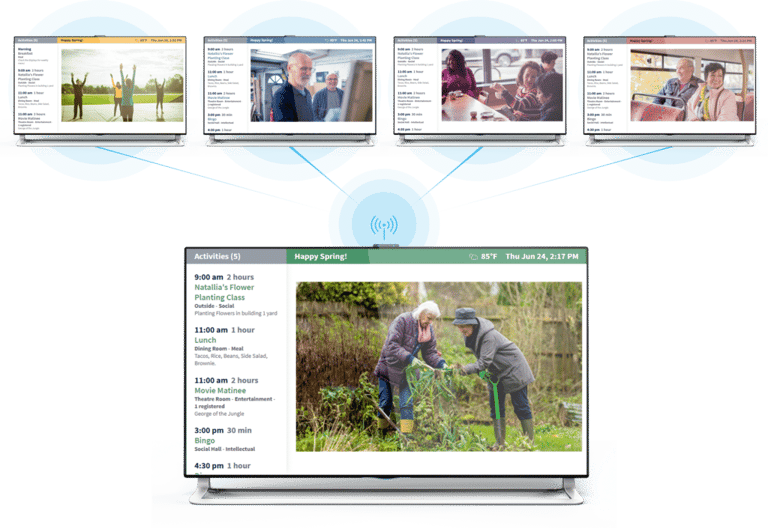 Why does it matter?
Sharing pictures and birthdays on digital displays helps build community and celebrate community achievements and fun.
Displaying activity calendars and other content on a screen or community broadcast channel ensures that residents are always in the loop.
Embedded displays on your website allow family members to see what is happening in your community daily. This is also a great sneak peek for prospects who want to learn more about what your community has to offer.
Seamless and real-time updates save staff from having to manually update content from one display to the next. All information stays up to date! No more mix-ups or confusion!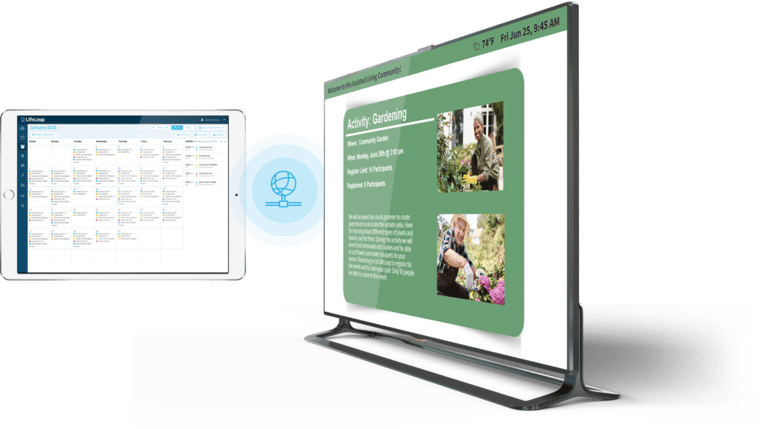 Digital Signage in Action⚡
Staff at Rose Blumkin Jewish Home proudly displays all activities through LifeLoop Digital Signage.
"We use LifeLoop for our electronic calendar displays, which ties everything together and rescues staff from creating four different calendars by hand. We so enjoy posting photos immediately to the calendars so that residents can enjoy seeing themselves instantly. At RBJH, we have in-house television stations to view the LifeLoop calendar and daily activities, which market all our programs for the month. Residents simply turn to that station any time of day to check out the LifeLoop calendar."

– Maggie Conti from Rose Blumkin Jewish Home
💡Interested in learning more about Digital Signage?
Our 1-1 demo is customized for you. Get answers to your unique questions and book time for a demo.
---
LifeLoop Express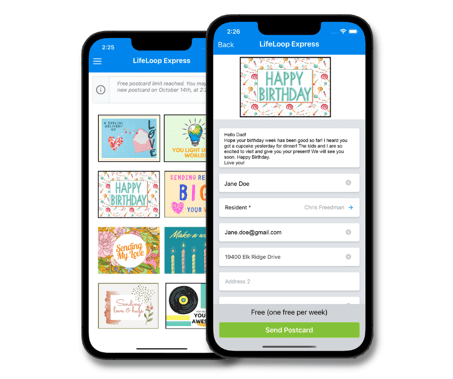 What does it do?
Families can send their loved ones a real postcard without ever leaving the LifeLoop App.
Why does it matter?
Customized postcards from their loved ones bring joy and connection to residents.
The easy-to-use feature encourages families to participate and engage with their loved ones, even if they are miles apart.
Families don't have to leave the app to make a real-life impact!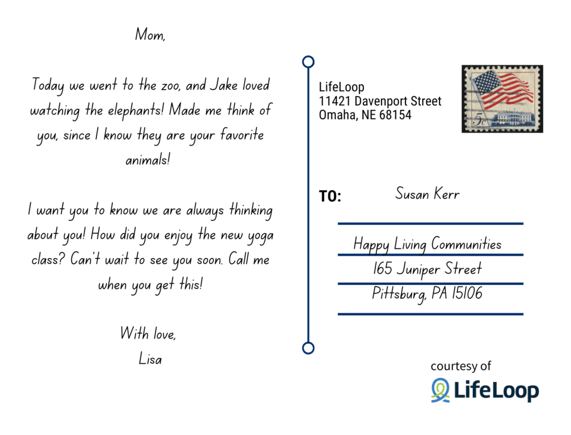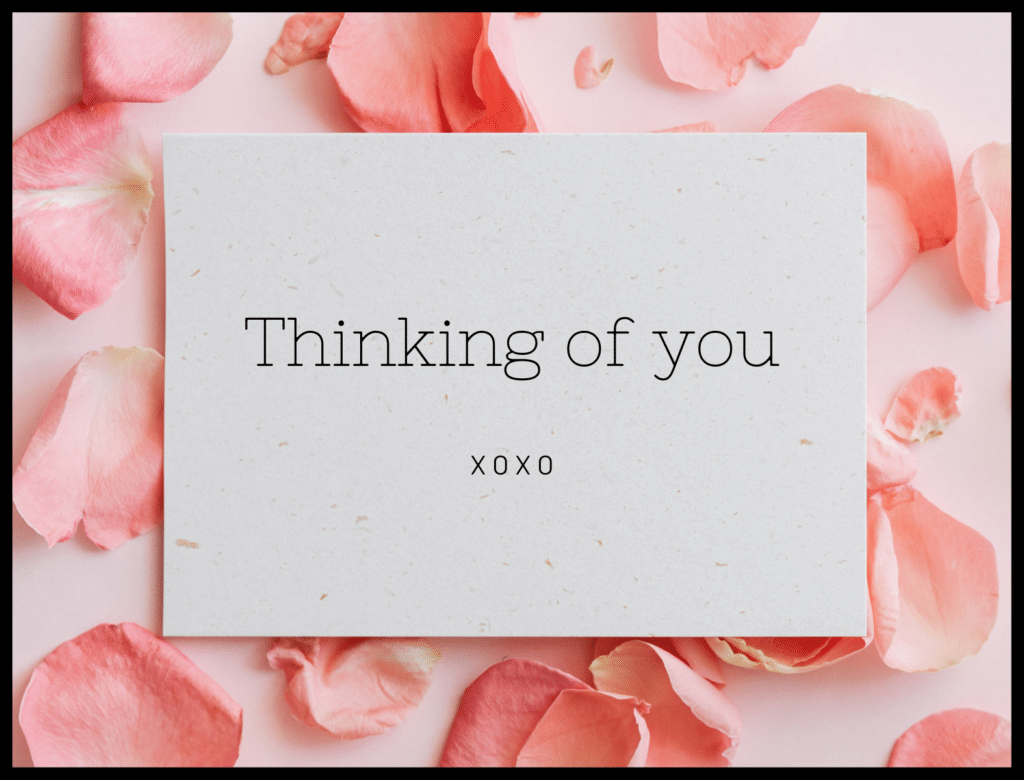 💡Interested in learning more about LifeLoop Express?
Our customized demo will answer your unique questions. Book time for a demo.
---
Communication for a Happier and Healthier Community
When you post your veterans' bios on your digital displays to celebrate Veterans Day, you're communicating your gratitude for their service. When you alert family members of policy updates or emergencies, you are communicating that you are working hard to keep their loved ones safe. When you post updated events and activity calendars throughout your community, you are communicating to your community that you have a plan. When residents receive a postcard or a message from their loved ones, it's being communicated that they are loved, and not forgotten. Communication is important. That's why we've dedicated so many features of our platform to ensure your community stays connected.
If you enjoyed learning about our communication features, be sure to check out part two of our blog, Streamlining Your Senior Living Community's Operations.