A 3-part blog series that explores LifeLoop's communication, operations, and engagement features. Want to explore these features in more detail? Book your demo.
Recap
Welcome to part two of our 3-part blog series where we break down the 12 features that make up LifeLoop's comprehensive senior living platform. Part one in our series focused on how our Communication, Digital Signage, and LifeLoop Express features can promote engaging and secure communication throughout your senior living community. In part two of our series, we look at the features that will quickly become your staff's best friend. Our operational efficiency features are designed to empower staff to create workflows that streamline operations and increase efficiency. In other words, LifeLoop makes their lives easier!
Investing in Staff Support
It's no secret that while senior living professionals are limited in numbers, those in the field are performing Herculean feats. Staffing challenges continue to make it harder for communities to find, train, and retain high-quality teams. We believe that investing in LifeLoop is investing in your staff. Our operation features are sure to act as your staff's go-to pocket solution.
LifeLoop's Operations Features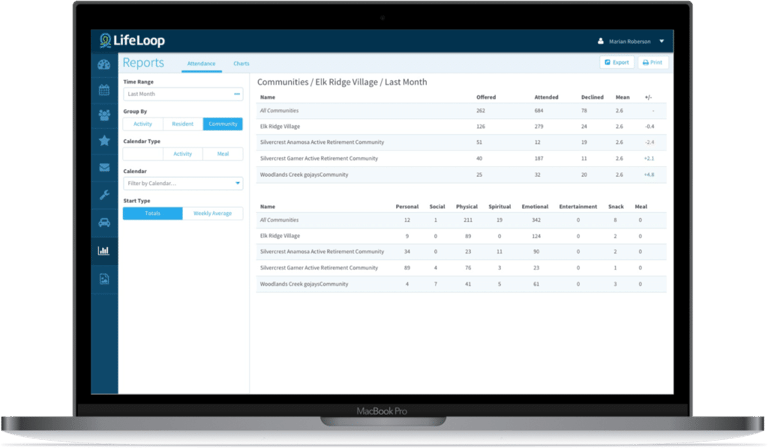 Calendar Management
What does it do?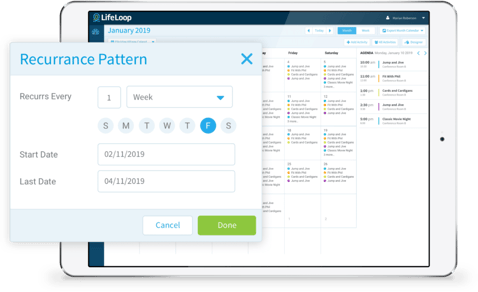 Creates a reservation system by setting up time slots for activities, appointments, and dining.
Sends automatic reminders to residents who have enrolled in an event, appointment, or activity.
Integrates your calendar with other features within the LifeLoop platform.
Provides an option to create recurring activities to automatically populate from week to week, or month to month.
Tracks attendance data.
Applies your calendar changes and updates across the entire platform in real time.
Why does it matter?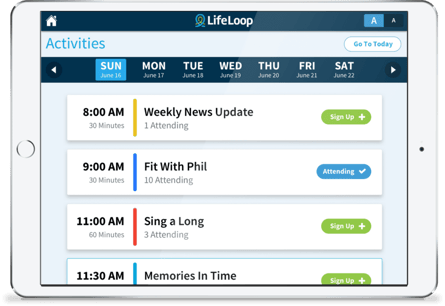 Residents can enjoy the freedom of scheduling their own days from any smart device.
Residents receive automatic reminders, so they are less likely to miss an event and staff no longer must manually send out tedious reminders.
Calendars can be displayed on a website, in the resident portal, on displays around the community, and in the family mobile app so that everyone can access the latest community calendar.
Staff can create activity calendars faster by utilizing the recurring activity feature.
Staff can create activity calendars based on resident interests, which is a sure way to ramp up attendance and increase resident engagement and satisfaction!
With the Calendar Management feature, all updates you make to the calendar will automatically update all connected calendars within the LifeLoop platform in real time!
Calendar Management in Action⚡
Check out what Melinda Sukle of Jackson Creek Senior Living had to say about the Calendar Management feature:
"Oh, my goodness! Personally, I could not do my job without LifeLoop. It is my best friend in the office, and the ability to add a program or event to the calendar and then replicate it with the click of a button is amazing! Once it's added, I can create daily, weekly, bi-weekly, and monthly schedules. I can also tally attendance for month-end reports, which is incredible. The time it saves my staff and me is literally hundreds of hours a month. By using the 'Likes' feature with each resident, we can export a list of people who enjoy WWII history, Uno, dancing, painting, or any activity. Then we can personally invite them to programs that we've spent time planning based on their interests. Our attendance is so much higher due to LifeLoop's robust platform and it allows our staff to spend more time with the people rather than in the office."

– Melinda Sukle of Jackson Creek Senior Living
💡Interested in learning more about Calendar Management?
Our demo is customized around you. Get answers to your unique questions and book time for a demo.
---
LifeLoop Designer
What does it do?
Create marketing materials with customized images, text, logos, and brand colors.
Design calendars and newsletters with customized images and text, including options to add special events like birthdays and anniversaries to events to calendars.
Create calendars in one-week, two-week, and full-month formats.
Electronically publish designs, print from your computer, or send a file copy to be professionally printed.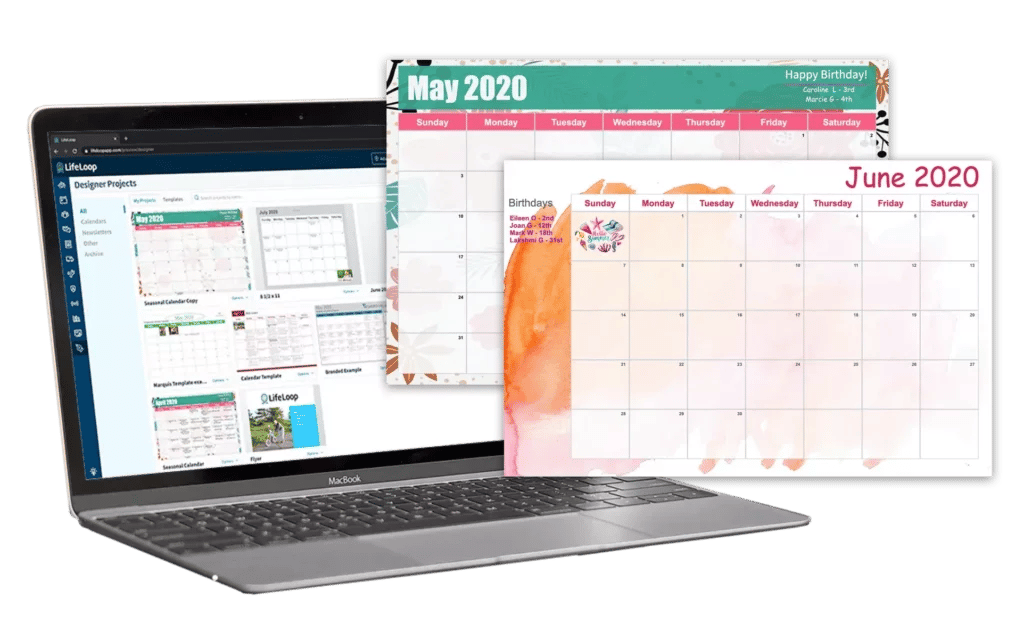 Why does it matter?
Save money by creating and printing your own marketing materials.
Provide prospects with content that sets your community apart from competitors.
Build community and camaraderie by celebrating residents' milestones.
Create fun, thematic calendars that are sure to raise spirits.
Create branded calendar templates that allow staff to create beautiful calendars in no time at all!
Digitally display beautiful designs and calendars around your community. This is a great differentiator to flaunt during prospect tours.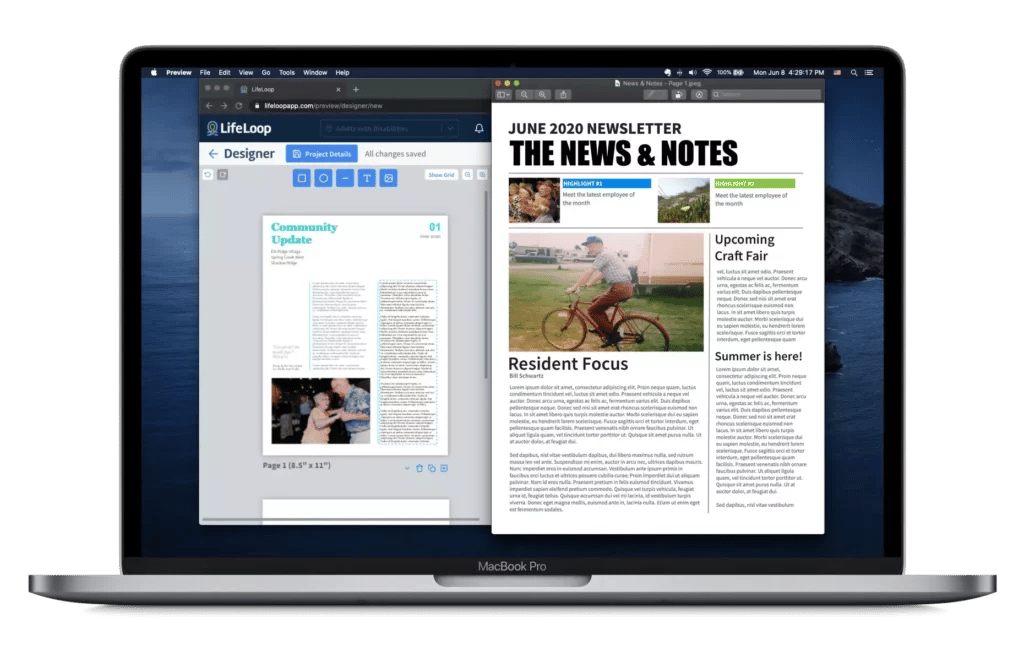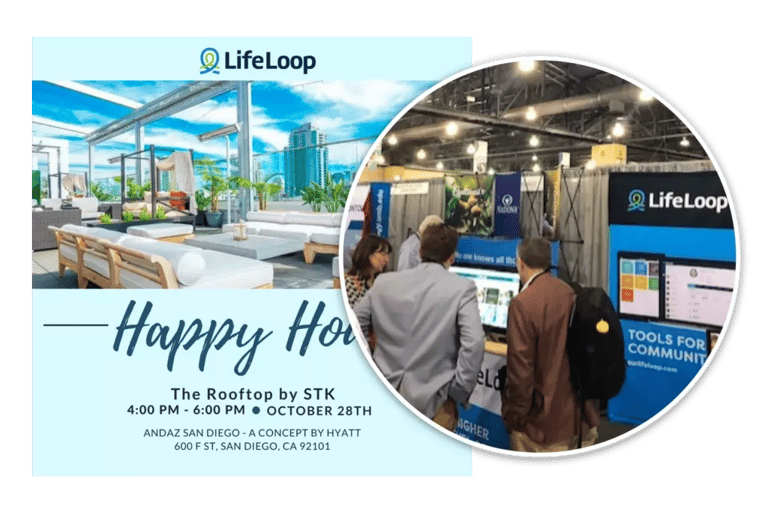 LifeLoop Designer in Action⚡
Michelle Morales, Regional Director of Lifestyle & Memory Care Programs at Westmont Living, shares how the LifeLoop Designer has helped their company produce cohesive and professional-looking materials across all their senior living communities.
"As a growing company, we are interested in consistent visual branding of our calendars, daily agendas, and newsletters. LifeLoop Designer helped us create specialized Westmont Living templates that include our logo, color palette, and graphic elements."

– Michelle Morales from Westmont Living
💡Interested in learning more about LifeLoop Designer?
Our 1-1 demo is customized for you. Get answers to your unique questions and book time for a demo.
---
Work Requests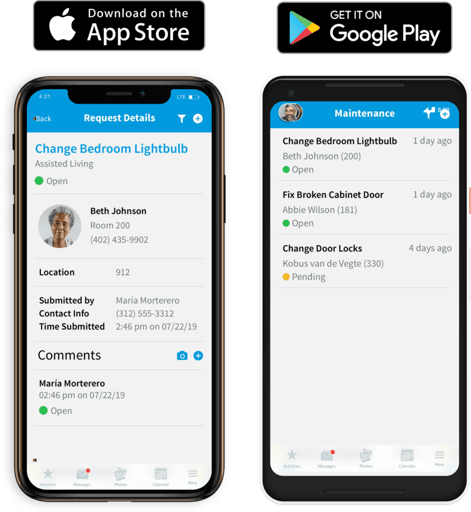 What does it do?
Residents, families, and staff can enter, view, and manage work requests from any smart device through the LifeLoop app.
Staff can easily view the status of each request and sort by approved, pending, and completed requests with live progress updates and a detailed history log for all work requests.
Staff can add recurring preventive maintenance reminders for the community.
Staff can quickly filter through requests by staff member, resident, room number, or community location.
Requests are viewable in a list format or calendar format, and staff can view and print each staff member's to-do list.
Why does it matter?
The ability to submit and manage their work requests encourages resident independence.
Allows family members to take an active role in the day-to-day lives of their loved ones, alleviating staff workload.
Staff no longer have to waste time manually entering every community work request, and communities can save money on paper!
Recurring preventive maintenance reminders ensure community safety while cultivating an environment of resident trust and care.
The search function saves staff time and helps them stay accountable for addressing community needs in a timely fashion.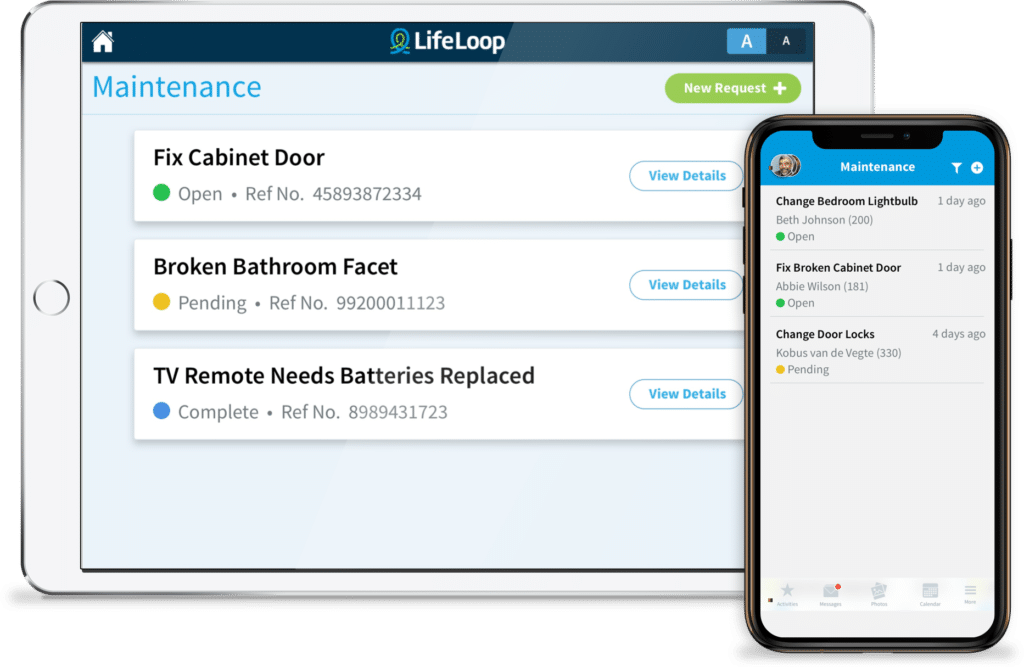 Work Requests in Action⚡
Check out how the Maintenance feature made the maintenance director at Overlook Village's life much easier.
"I can tell you from personal experience that LifeLoop has been a game changer for me as a Maintenance Director in managing scheduled property preventive maintenance and resident needs in the form of work orders for our property. I worked at another company prior to working at Dial, and I wish I would have had a tool like LifeLoop. Not only does LifeLoop streamline communication, but it also eliminates the use of paper orders and keeps a history of closed-out work orders that you can search for if you need to."

– Scott Randolph from Overlook Village
💡Interested in learning more about Work Requests?
Our customized demo will answer your unique questions. Book time for a demo.
---
Transportation Management
What does it do?
Residents and staff can schedule and manage transportation requests directly in the LifeLoop app.
All transportation requests and modifications are automatically added to the Transportation portal through the LifeLoop app.
Search features allow staff to quickly filter through transportation requests by driver, vehicle, resident, or location.
Staff can view each transportation team member's to-do list.
Families can schedule transportation requests and keep an eye on the request status.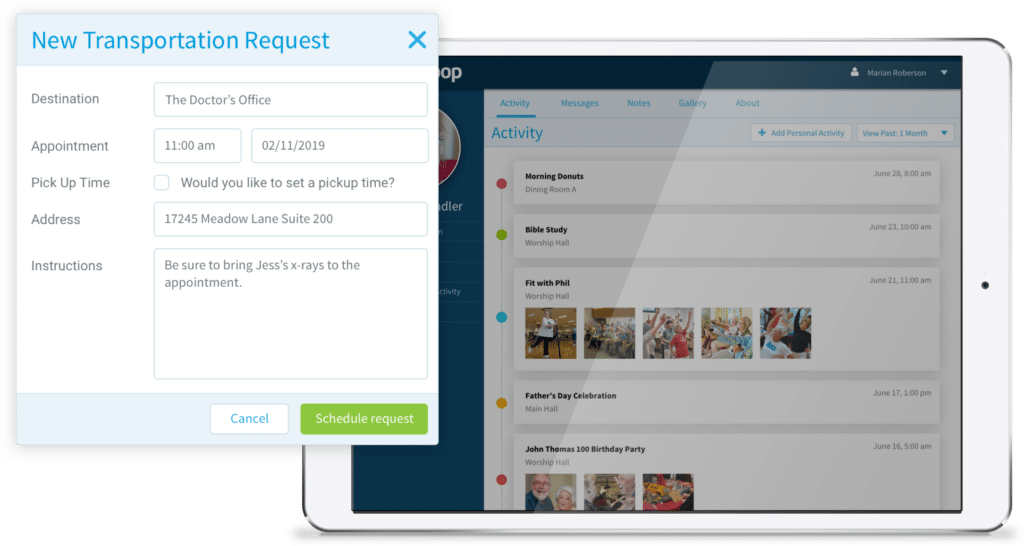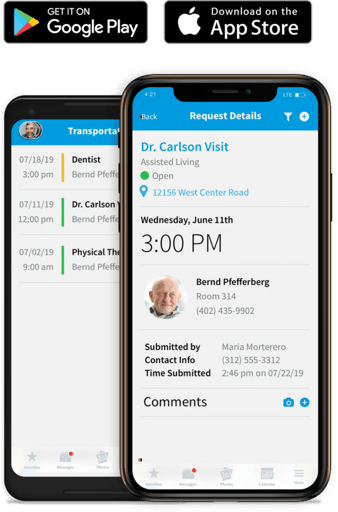 Why does it matter?
On-demand access through the LifeLoop app promotes resident independence, a huge attractor for prospects and residents.
Staff no longer need to manually enter each resident's transportation requests, saving them time and hassle.
Staff can easily manage their community's transportation needs on one search-friendly platform.
Families can take a more active role in the lives of their loved ones, alleviating staff workload.
Transportation Management in Action⚡
Westmont Living residents and families use the LifeLoop Transportation feature to schedule their appointments with ease!
"We love that the LifeLoop transportation feature is user-friendly. It provides our families, residents, and team members the opportunity to easily set up appointments. Our transportation is organized and streamlined to better serve the needs of our Westmont Living Communities."

– Michelle Morales from Westmont Living
💡Interested in learning more about Transportation Management?
Get answers to your unique questions and book time for a demo.
---
Resident Tracking and Reporting
What does it do?
Allows staff to electronically take attendance on any smart device through the LifeLoop app.
Tracks resident engagement and attendance by activity type.
Produces dynamic reports for a specific resident or activity type.
Provides families and staff resident metrics.
Integrates with PointClickCare.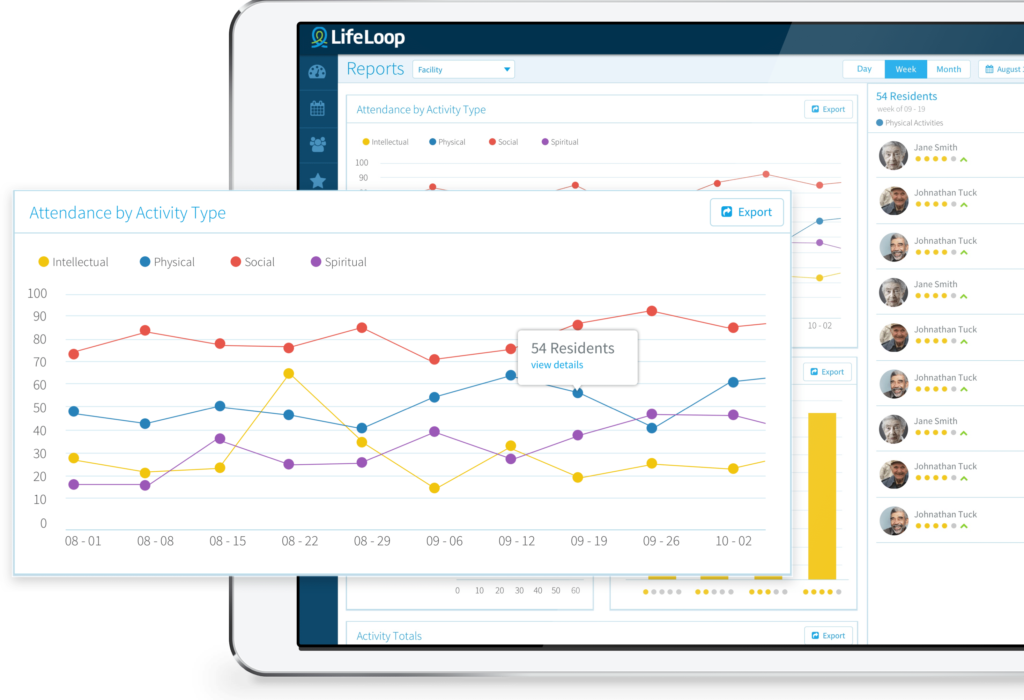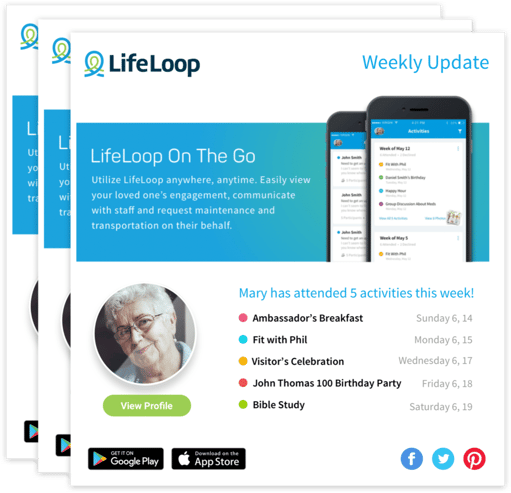 Why does it matter?
Staff no longer must manually take attendance and chart resident engagement, saving them a lot of time.
Families gain insight into their loved one's day-to-day activities, keeping them involved and connected.
Staff and family members can create effective and personalized care plans for residents using regularly and accurately recorded data.
Communities can consolidate information into one trusted location: the LifeLoop app. No need to log into multiple platforms to access resident information.
Resident Tracking and Reporting in Action⚡
Check out how the LifeLoop Resident Tracking and Reporting feature provided a family member with comfort:
"LifeLoop has given my family a tool to open up communication between all of our family members. Having a window into my mother's life makes me feel better about her well-being. I know she is in good hands, but seeing it every day is even better."
💡Interested in learning more about Resident Tracking & Reporting?
Get a tour of our features customized to you. Ask your unique questions and book time for a demo.
---
Doing More with Less
LifeLoop empowers your staff with the tools they need to do more with less. With LifeLoop, your staff will spend less time logging into different systems, searching through paperwork and transportation requests, creating and updating calendars, tracking down resident data, and managing third-party content creators. Instead, they can spend more time interacting with residents and families in a meaningful way and create personalized care plans anchored in purposeful engagement. Our operational efficiency features are designed to provide your staff with an extra hand—and who couldn't use one of those every now and then?
If you enjoyed learning about our operations features, be sure to check out the final part of our 3-part blog series, Amplifying Engagement In Your Senior Living Community.