A 3-part blog series that explores LifeLoop's communication, operations, and engagement features. Want to explore these features in more detail? Book your demo.
Recap
LifeLoop is a comprehensive senior living platform designed to increase staff efficiency, resident engagement, and family satisfaction. This 3-part blog series is dedicated to breaking down LifeLoop's robust platform into its 12 features! In part one, we explored the features that facilitate communication, and part two highlighted features that streamline operations. Part three delves into the features that will amplify your community's engagement.
Engaging Residents Means More Than Entertaining
Some senior living professionals may question the need for investing in engagement technology. After all, residents can access movies, games, and shows from any tablet for free, right? Wrong! Engagement is more than entertainment. Purposefully engaging residents decrease feelings of loneliness and isolation. This type of engagement has been proven to extend life expectancy, reduce the risk of multiple disease outcomes, including cognitive impairment, and promote preventive health behaviors. Engaging residents means instilling a sense of purpose and pride into their everyday activities, and that requires your staff to do some seriously heavy lifting. LifeLoop's engagement features take pride in lessening the load for your staff because we understand that purposeful engagement is the bedrock of any high-quality senior living community.
LifeLoop's Engagement Features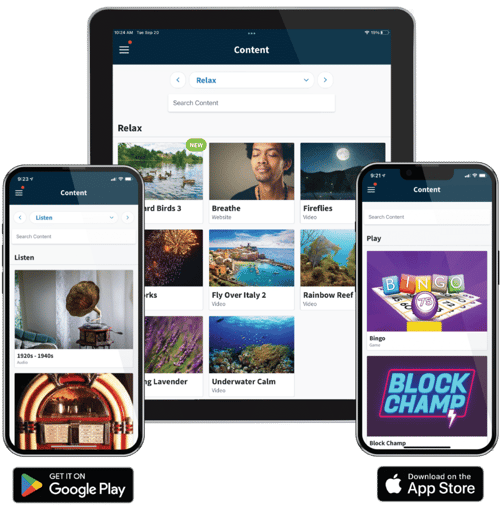 Family Portal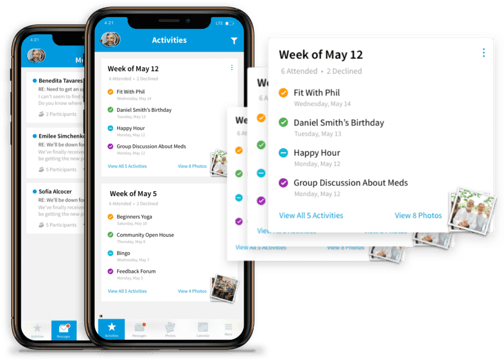 What does it do?
Provides families with a customizable weekly email that provides an in-depth summary of their loved one's activities and attendance for the week.
Grants families access to their loved one's activity feed 24/7.
Offers families visibility into their loved one's activities, meals, and registered events.
Photo and video sharing between staff, residents, and family members.
Access to messaging tools that empower staff and families to connect.
Why does it matter?
Families can rest assured knowing their loved one is active, cared for, and engaged.
Allows families to be part of their loved one's daily life.
Keeps families in the loop and active in their loved one's care plan.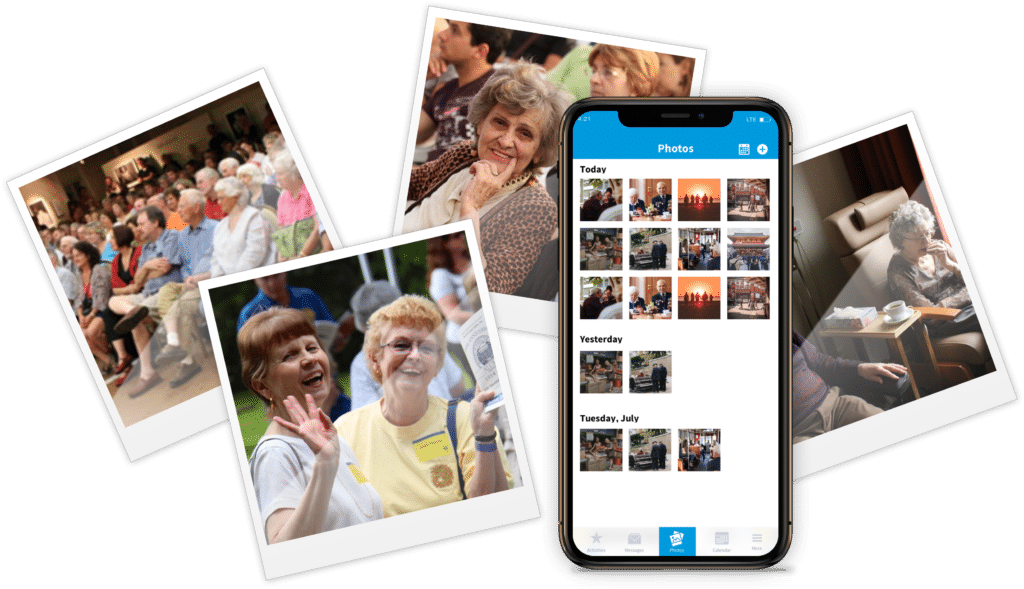 Family Portal in Action⚡
Read how the Family Portal helps keep Debi S. and her family connected to her mother, even though they live miles apart:
"Thank you, LifeLoop, for becoming our lifeline to our mom. Many miles separate us from my mom but being able to log in and see all she is doing and what is coming up for her to do has been such a relief. I know seeing the photos of her being active and having a good time makes us all feel like we made the right decision. And being able to send her a postcard once a week is something she looks forward to. LifeLoop is very much appreciated by our entire family."
💡Interested in learning more about Family Portal?
The demo is customized around you. Get answers to your unique questions and book time for a demo.
---
Resident Portal
What does it do?
Residents can access, send, schedule, and/or manage:

Activities and calendars
Messages

Maintenance requests and updates
Transportation requests
Photos
Contact information

Residents receive event and meal reminders before the event takes place.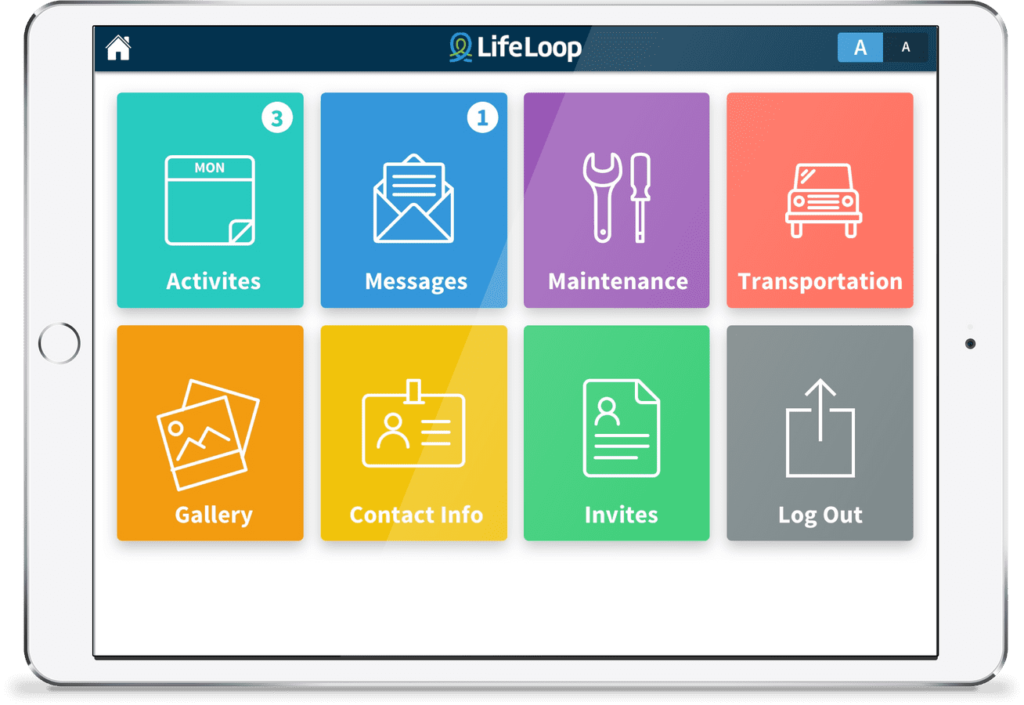 Why does it matter?
Gives residents the independence they desire.
Provides residents with choices so that they can create schedules that excite and interest them.
Reminders ensure residents don't miss events that keep them active, engaged, and social.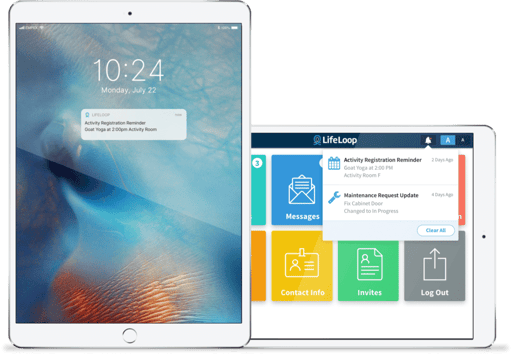 Resident Portal in Action⚡
Zoe Nakashian of Opportunities, Inc., shares how the Resident Portal has given their residents a sense of independence that has been empowering!
"They love the chance to be able to do these things themselves. It [the Resident Portal] gives them a sense of self-worth because rather than just being told what's happening, they can decide."
💡Interested in learning more about Resident Portal?
Get a 1:1 custom demo tailored to you. Get answers to your unique questions and book time for a demo.
---
Reservation & Time Slots
What does it do?
Communities can create their own scheduling system in 15-minute, 30-minute, 45-minute, or 1-hour intervals.
Residents and staff can make their own reservations for upcoming activities and services.
Staff can create their own schedules for resident 1:1 and community life activities.
Why does it matter?
Residents have the freedom of scheduling their own days from their smart devices.
Staff no longer have to waste time and energy manually entering resident and staff appointments.
Staff can create and organize their schedules to ensure quality time for resident care and planning.
Reservation & Time Slots in Action⚡
The LifeLoop platform is extraordinarily user-friendly! Communities can utilize the Reservation & Time Slots feature to create schedules that work best for their community's needs.
"LifeLoop is a very user-friendly system to organize activities and events for our residents. In addition, there are a lot of options to manage and customize schedules and calendars to how we see fit for our community."

– Andrew Rivera, Activity Director, Elk Grove Park
💡Interested in learning more about Reservation System?
Get answers to your unique questions and book time for a demo.
---
Content Powered by iN2L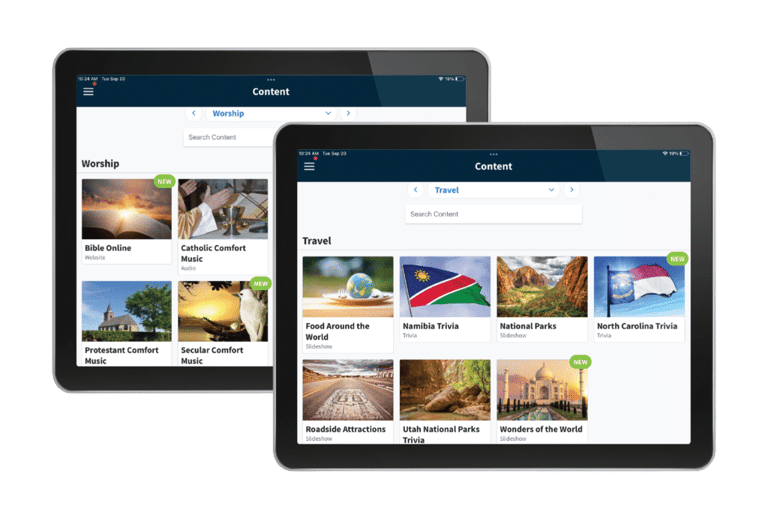 What does it do?
Residents and staff can access a content library specifically curated for seniors of all abilities from any smart device through the LifeLoop app.
Content is expertly designed and curated to support spiritual, social, physical, mental, and emotional well-being and person-centered growth.
Residents can access games, movies, music, wellness videos, spiritual sermons, and more.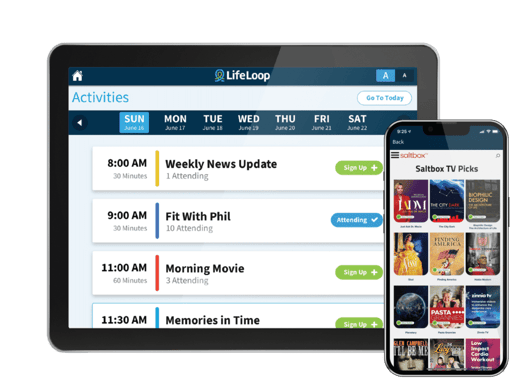 Why does it matter?
Keeps residents independently engaged.
Provides residents with enjoyable content that's tailored to their specific interests and needs from any smart device.
Designed for cross-departmental use so all levels of care can enjoy impactful engagement.
Acts as a great tool to supplement therapy plans, group activities, 1:1, and independent engagement.
Encourages resident socialization and sense of purpose while decreasing feelings of isolation and loneliness.
Saves staff time planning and prepping activities with ready-to-use content.
Accessible content is available on any smart device so that everyone can experience person-centered engagement wherever they are.
Empowers staff to spend more time on programs that target purposeful engagement.
Serves as a great intervention tool.
iN2L Content in Action⚡
The Activity Director at Rice Estate shares her favorite thing about iN2L content:
"iN2L content provides activities at your fingertips 24/7. The planning has been done for us, which frees us up to spend more time with our residents. It is easy to meet the dimensions of wellness using all the tools available through iN2L. We especially love the music options, karaoke, trivia, slide shows, reminisce content, and games. We are also able to take iN2L into residents' rooms, which is beneficial in meeting 1:1 activity needs."
💡Interested in learning more about Content Powered by iN2L?
Our customized demo will answer your unique questions. Book time for a demo.
---
So, What Does All This Mean for You and Your Community?
We know that was a lot of information, but we promise you, the LifeLoop platform is intuitive and easy to use. LifeLoop was designed to facilitate communication, streamline operations, and amplify engagement in your senior living community through one robust app! Pretty soon, you will be navigating through every LifeLoop feature like a pro, and your community will be running smoother and happier than ever before. LifeLoop offers a solution for every department.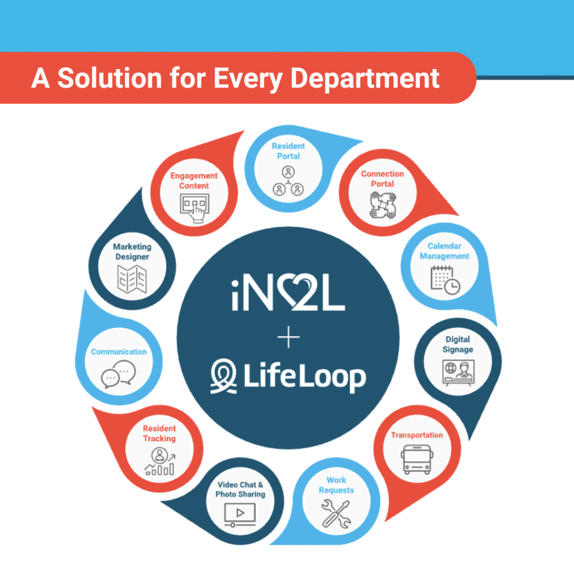 Don't forget, you are not alone! We are happy to provide you with step-by-step training led by an iN2L + LifeLoop customer success team member. Here at iN2L + LifeLoop, we are confident our solutions will help your community reach its mission faster and with less hassle. We are in the business of making senior care easier for everyone. Together, we can increase staff efficiency, improve resident engagement, and increase family satisfaction. Together, we can do more!